Player Insurance and Title IX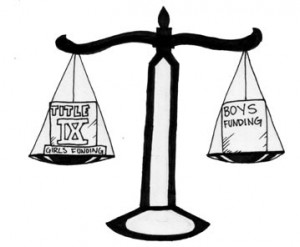 Earlier today I read an interesting article on how Texas A&M was able to essentially discourage one of their top players from entering the NFL Draft by paying for his insurance policy. The basic idea with these types of policies is to cover against the risk of career ending injury and potentially losing out on future earnings by staying in school for another season.
It's becoming more common for players to take out these types of insurance policies themselves, but the premiums can be quite expensive. However, in this case, Texas A&M is paying for the policy, not the player. The football program clearly feels that keeping this player on the team for another year was worth spending upwards of $60,000.
Apparently, the NCAA said there was no problem with this, as they determined that it falls within the scope of the "Student Assistance Fund." However, something about this does not sit right with me. Technically, the student is not getting paid by the university, so it's not an "amateur vs. professional" or "pay the players" argument…although some would argue if a school is willing and able to pay for an insurance policy, shouldn't they just start paying the players? The issue that popped to my mind was the idea of how this can possibly fit within the rules of Title IX.
To be compliant, a school must meet requirements in three different areas (Editor's Note: this section has been updated for accuracy compared to my original post)
Participation: There should be equal participation opportunity for men and women, and schools must pass one of three "tests" to comply.
Athletic Financial Assistance: The number of scholarships must be allocated proportionally to the number of male/female student athletes.
Treatment: There are eleven other criteria, ranging from facilities to scheduling and academic resources where male and female athletes must receive equal treatment.
From my research, this could be an issue with regard to financial assistance or treatment:
Financial Assistance: As far as I can imagine, I don't see "assistance" in this form being made proportionally available to female athletes who participate in primarily non-revenue generating sports. This decision was almost surely made due to the financial impact that football has and how he is viewed as a significant contributor to that program. The Title IX rule in this area specifically focuses on the number of scholarships, so the insurance policy might not "technically" fall here but this feels like a difference in financial assistance to me.
Treatment: There are two criteria in this category where purchasing this type of insurance could conflict: Provision of Medical Training Facilities and Services and Recruitment of Student Athletes. This policy specifically addresses the potential medical issue of a career ending injury, and the decision to purchase this policy was to "recruit" this athlete to stay in school vs. turn pro. Would a similar policy be used to provide the same type of medical services or recruitment towards a female student-athlete?
Am I reading too much into this? Should the NCAA take another look at this beyond the scope of the Student Assistance Fund and more in terms on the overall landscape of equal treatment of scholarship athletes? I am by no means an expert on Title IX, so if anyone has some insight or opinions on this, please share them in the comments.