Uniquely Soccer: World Cup Viewing Parties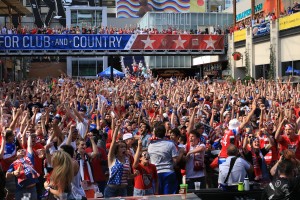 Chances are you or someone you know went to one of the many viewing parties for the U.S. versus Portugal World Cup game this past Sunday. Chicago, Los Angeles, St. Louis, Orlando, Richmond (VA), Kansas City. The list goes on. Can you name another sporting event that brings people together at this magnitude, to watch their team on a big screen? Sure, groups of 5-50 will get together for the Super Bowl, or one of the Olympic events. But thousands of people gathering together, in city after city, many hours before the game even starts, to be near fellow fans, join their voices together, and will their team to a victory (or, in this specific case, a tie)? That is uniquely soccer.
In Richmond, Virginia, the local professional team, the Richmond Kickers, were partners in bringing a FIFA-sanctioned event together. Many vendors lined the outskirts, including food and beer trucks. Around 5,000 fans showed up, almost twice what was expected. Even though the US didn't get the win, many fans talked about the unique and fun time they had.
In Kansas City, nearly 10,000 people packed the Power & Light district (photo at top-right, courtesy of Sporting KC). On what might have been just another lazy, early-summer Sunday, the nearby shops and restaurants saw a decided uptick in business.
And near Grant Park in Chicago, fans literally raced in when the gates first opened to secure themselves a seat in front of the giant television screens. The gates later had to be shut when the event reached capacity. This event was sponsored by U. S. Soccer, included a local DJ as the emcee, and had a 'fan fest' that started five hours prior to kickoff and included food and beverages.
Ratings for the game were higher than any other soccer game telecast in the U.S., and were higher than the NBA finals and the World Series. Facebook said that around 10 million users made around 20 million posts about the game. Twitter saw over eight million posts involving the contest. If you're like me, your social media was filled with pre-game comments (I. Believe. That. We. Will. Win.) to during-game comments (What a goal!!!!), to post-game comments (Ugh, we were SO close to the win!).
While many media outlets repeat the same mantra every four years ('Soccer is a niche sport. It will never reach the levels of popularity of the 'Big 4.' When the World Cup is over, most people will stop following soccer.), soccer fans enjoy increased coverage of the English Premier League, Major League Soccer, and international competitions. Whether soccer is a 'niche' sport or not is a debate for another day. For today, fans enjoy the camaraderie and excitement that comes from an atmosphere where hugging and high-fiving the complete stranger next to you is not only acceptable, it's expected. While they're doing that, they are growing an affinity for the event's sponsors, and purchasing food and drinks from local vendors. If your city didn't have one of these watching parties, it sounds like they are missing out.