Interview with TicketCity COO Zach Anderson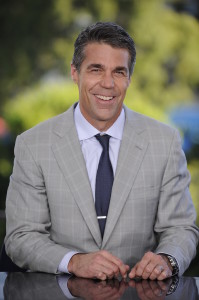 This week, TicketCity announced a deal with ESPN personality Chris Fowler to be an official brand ambassador for their services. After this announcement, I had the chance to do a quick email interview their COO Zach Anderson to learn more about the deal and his thoughts on the secondary market in general.  As COO, Zach is responsible for the company's overall operations and long term strategic direction. He previously served as Vice President of Marketing, guiding TicketCity's marketing, website and technology team, and prior to TicketCity, Zach worked at GSD&M Idea City on the Walmart account team.
Zach, I don't believe any other secondary markets currently use a non-athlete, celebrity spokesperson as part of their marketing. Why did you decide to pursue this option?
Zach: Our strategy has always been to find the partners that make the most sense for our business, and we've learned this often means trying something new within the industry. For example, we were the first ticket marketplace to be the title sponsor for a college bowl game. This made sense for us because college football fans represent more than 35% of our customers. For similar reasons, Chris is also a good fit for our brand. A lot of partnerships within the industry right now are focused almost entirely on driving referral sales through digital properties. Our decision to pursue a relationship Chris had a lot more to do with building a deeper relationship with our customer base.
How will this choice help differentiate you compared to other secondary options?
Zach: Trust. We've been in business since 1990, and the internet has changed the way fans are buying and selling tickets. These days there are so many different places online where that exchange can take place. Tickets are a commodity, and sometimes it's difficult for people to understand how service and reliability can differ dramatically depending on the company that is facilitating the transaction. By aligning ourselves with an established, recognizable personality like Fowler, it's easier for us to help customers understand that we're a reputable business.
What role will Chris play for Ticket City? Can you provide some examples?
Zach: Chris' role will be focused on customer engagement. We want to provide our customers the opportunity to interact with Chris, as a lot of our customers are also fans of Chris' work. Engaging directly with fans is something Chris is very good at, whether he's at live events or replying directly to fans on Twitter. At the same time, we want our relationship with Chris to be transparent to his fans. This means that most digital marketing we partner with Chris on will be driven primarily through our own social media communities and other digital properties. This will include a number or promotions and contests targeted at sports fans. Additionally, we hope to leverage our on-site presence at the bigger events so that our customers have the opportunity to meet Chris in person.
What does ESPN think of this partnership? Were they involved in any way or did they express any concerns?
We worked with Chris' firm Octagon to facilitate the partnership. ESPN does not have any affiliation with our relationship with Chris, so they weren't involved. ESPN is aware of the deal and we may explore different opportunities to work together down the road.
Besides this specific deal, can you speak to the challenges of operating against the bigger players like StubHub and TicketExchange?
Zach: The biggest challenge is not getting caught up in everything they do, or you'll be stuck in a constant state of playing catch-up. As subsidiaries of big corporations, both StubHub and TicketExchange benefit from more resources and capital. We've become more and more focused on the areas that we're strongest in- sports, and specifically college football. In addition to our partnership with Chris, we're really trying to have a conversation with the customer- we're still at a scale where we can facilitate these type of relationships. For example, we use a social media monitoring tool that allows us to track up to 100 topics relevant to our business and then engage directly with potential customers via those channels.
How do you see the secondary ticket marketplace evolving over the next 3 to 5 years?
Zach: We're not going to be talking about primary vs. secondary ticket marketplaces anymore. What we will be talking about is where people go for the tickets they want. Price, quality of seats and reliability are what is most important to the customer- not who originally purchased the tickets. Mobile is the future of ticket buying and will continue to improve last minute access and transferability of tickets. Finally, we're going to see more of an international push as markets open up. Right now ticket buying is largely a domestic industry, but in the future customers will have more of any opportunity to purchase tickets to international events through a local source.