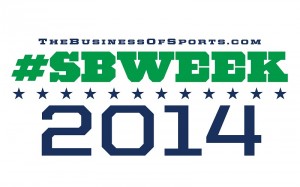 #SBWeek 2014 has come and gone, and I am so appreciative to all of our local hosts and attendees for their support. Here are some great stats that show the success of this year's events:
6 host countries
31 host cities
1,500 attendees
1,600 tweets with the #SBWeek hashtag
4 million timeline deliveries (via hashtracking.com)
$6,000 raised for UNICEF
All of the money raised will go specifically to UNICEF's "Sports as Change-Agents" program:
UNICEF Brazil will train school teachers, football school teachers, social workers, professional club coaches and the community so they can play an active role as agents of change to utilize football and other sports as a tool within an educational framework to positively reinforce life skills, increase engagement in school and sustain and/or increase their school attendance. UNICEF will develop an e-learning training module to train teachers and coaches to teach sport lessons by integrating fundamental sports skills (i.e. technical, tactical, collective intelligence gaming) with core life values such as team work, solidarity, leadership and respect for teammates/opponents.
As I mentioned at the top, #SBWeek would not happen without the support of all our local hosts. To learn more about their businesses, click here to access the #SBWeek Digital Dropbox. Another big thank you to Joshua Duboff of The Sports Business Exchange for all of his help and hard work co-hosting #SBWeek 2014. Finally, thanks to all of the other media outlets who wrote about SBWeek.
Check out the Tagboard below for some great pictures and tweets from #SBWeek!