Insights from the Media Side of MLB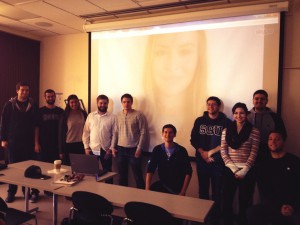 As the 2014 Major League Baseball season opens, I thought readers would enjoy some insights into the media side of baseball.
Last week, Jane Lee (@Jane MLB) the MLB.com beat reporter for the Oakland A's visited my Sports Marketing class at Sonoma State University via Skype and shared some interesting information – in addition to posing for the photo on the right with some of the students in class.
As I reviewed my notes, here are eight highlights:
1. First a bit of background on Ms. Lee: she is a 2009 Journalism graduate from Pepperdine Univsity, who got her start as an intern for former MLB.com A's beat reporter Mychael Urban.  More evidence that internships pay!
2. The 2014 season will be Jane's fifth on the beat with the A's.  Her job includes writing game stories and covering the team's off field moves, as well.  Thus an important part of her job is building relationships with players, coaches and front office personnel.
3. Another group that beat reporters need to develop relationships with is the other beat reporters.  On one hand they are competing to break stories, while on the other they are the only ones who really know the grind.
4. Jane suggested for anyone breaking into any part of sports business that is important to observe the behaviors of others in similar positions.  A mentor telling you what to do is helpful, but a lot can be learned from watching the professionalism of your colleagues.
5. Ms. Lee specifically mentioned Susan Slusser of the San Francisco Chronicle as another beat reporter who she has learned from.  Not a surprising choice given Slusser's long tenure and recent role as first female President of the Baseball Writers Association of America.
6. The beat writers on the team's sites are employees of MLB.com, not the teams.  As a result, Jane never has felt any pressure to not be critical of the team or management when it is warranted.
7. The job of covering an MLB team sounds like a fantasy for many.  But the job is grueling once you factor in the travel, the 7 day a week grind and non-traditional schedule.  (All of these are my descriptions – not Ms. Lee's.)  After Jane's visit, students in class indicated that the challenges of a beat reporter are more surmountable than they suspected.
8. Finally, getting positions in sports is competitive – as we all know.  But Ms. Lee shared a story I'll end with.  She began writing letters to Urban and Slusser (and others) as a twelve year old – her heart set on becoming a beat reporter.  And she executed on that dream.  How many people are gunning for your job? Or kids are dreaming of getting into sports positions?
Thanks again to Jane Lee for visiting class.  I hope all you readers have a great time watching Major League Baseball in 2014!