Four Lessons from the Sloan Sports Analytics Conference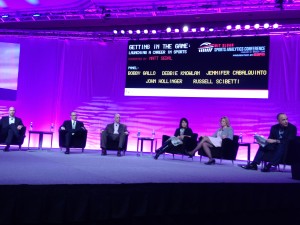 I recently returned from my fourth annual trek to the Sloan Sport Analytics Conference. While the focus of the conference is analytics (obviously), and this angle was covered all over the internet, I was looking for general business themes that resonate across sports business – not just in the analytics world. Here are the four topics that emerged:
It's All About Relationships
On seemingly every panel, the topic of relationships and trust was discussed directly or indirectly. Wyc Grousbeck who is CEO of the Celtics and organized the team of investors that bought the team in 2002 emphasized the trust that is needed at the highest level of deal making. Especially interesting was his view on investors who made their money by being hard driving, successful business professionals and then are asked to invest in the team, yet have almost no input on the team's daily operation. And they do so based on relationships and trust.
Another area relationships came up was in watching panelists interact. Many knew each other from doing business together – and that comfortable familiarity comes across. Anyone looking to break into the sports business world needs to work hard at building mutually beneficial relationships.

Fans' Expectations are (Always) Changing
Delighting fans is a challenge. A promotion, activity or amenity (think wi-fi) that was once considered an upgrade by fans quickly becomes the new level of expectation, resulting in satisfaction, but not delight. Consequently, all sports organizations are consistently seeking to innovate. The coolest innovation presented at the conference was what MLB Advanced Media will be rolling out to give broadcasters and fans access to advanced metrics like runner's speed or distance covered by outfielders in getting to the ball (and whether they took the best route!).
Right now access to such information seems like a significant leap forward – but in ten years, it is likely that fans will have gotten used to it AND crave even more information. So a culture of innovation has to permeate teams and leagues at every level that impacts the fan experience.
Communication is Key
This topic has been discussed by many panels over the last four years. Typically,the context is how to communicate the findings and insights derived from analytics to managers, coaches and players to use on the field or court. But really, this theme is important everywhere in the organization. How is data used? Who has access to it? How are decisions made? Who is consulted in the process?
All of these questions matter whether in stadium operations, sales, sponsorship, security or the on field product.
Psychology is the Next Frontier
Several speakers from Phil Jackson to Bill James identified the topics of psychology and team building as the next frontier in on field analytics. But more broadly, this is a likely change in philosophy that will touch all parts of business in the coming decade. Think of the sales department for a team. Applying better screening methods – including psychological profiles – may soon become an increased part of the hiring process – and result in better employee performance and lower turnover.
As an example, in my sales course at Sonoma State this semester, we used the Insights profile (pictured below) to help future sales people understand their selling styles and customers preferred communications styles. More of this kind of data-based training is going to become commonplace in sport organizations.
The Sloan Sports Conference has become a highlight of the annual calendar for many in the sports business community. And if you have never attended, I'd strongly suggest doing so. But if you can't, due to time or budget constraints, an archive of panels and presentations is available here.
And I know I'll be waiting for the content from the 2014 Conference to show up soon, so that I can digest all the great speakers and panels that were happening in concurrent sessions throughout the weekend, as I bide time until the 2015 Sloan Sports Analytics Conference.