Super Bowl Ad Review – Maserati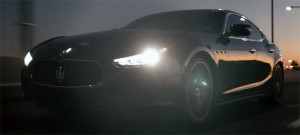 Sure, the Super Bowl was a few weeks ago. Sure, the media (and blogging universe) have moved on from Super Bowl ads.
But not me! Super Bowl ads are an interesting topic year round – not just the week of the game. So I thought it would be fun to share some analysis on a new entrant to Super Bowl advertising – Maserati:
This post was spurred by Forbes writer Maury Brown's piece (@bizballmaury) "How Maserati Won The Super Bowl Auto Advertisement Battle". (Feel free to give it a read…I'll wait!)
Watching the game and chronicling the ads, I was not very impressed by this one. The ad did not fit my profile of "winning" Super Bowl ads based on these three questions I ask while watching the ads:
Could the Ad ONLY be for this company?
On this dimension, the ad was a failure. It was artfully shot, engaging to watch and interesting – but 80 seconds into the ad I still had no idea what firm/product was being promoted. Even after it was revealed in the last ten seconds of the ad, there was nothing that linked it to the brand, in my mind.
This is reminiscent of the 2011 Volkswagen Jetta ad featuring Darth Vader. It "won" the USA Today Ad Meter as "best" ad that year, but when I asked students in class what company the ad was for, more than half answered incorrectly. That Jetta ad was funny and memorable, but could have been for ANY car manufacturer. I'd say the same is true for this year's Maserati ad.
Did the ad convey new information?
Nope. I learned a lot more about Maserati's entry into the lower price luxury car market by reading Brown's article than I did watching the ad. After watching (and re-watching the ad) there was no mention of the new "affordable" Maserati priced under 100k -which is interesting new information, but absent from the ad.
Is the Super Bowl the best way to reach the target market?
In theory, I understand why Maserati (and their ad agency) could see the Super Bowl as a great platform to reach their target market. Especially since the company's strategy seems to be growth by expanding its target market using product development to attract a larger segment with lower prices. BUT THE AD DID NOT CONVEY THIS INFORMATION. So the Super Bowl platform was wasted.
Despite all these criticisms, the ad was effective, in ways outlined by Mr. Brown. In addition, as of today, the ad had over 10 million views on YouTube.
What might I suggest as an alternative approach to the ad?
Well, Maserati spent $12 million on the 90 second spot's media costs. By my math, they could have given away 240 Ghibli's (assuming manufacturing costs of 50k per unit) for that sum. Could the company have generated buzz during the Super Bowl by launching a social campaign including a contest to win a Maserati? Could it have used YouTube distribution of the ad to promote the new car and new pricing?
Could they have given away 10 cars every Sunday for the next 24 weeks? Then created compelling Facebook/YouTube/Twitter content about the winners and how much they LOVED the car. It seems like such a campaign could create more ongoing opportunities to reinforce the brand's message than one 90 second spot.
But, of course, we will never know. And such an idea depends on execution – just like a Super Bowl ad. But in the changing media/social media environment it might be worth a shot.