Personal Branding Lesson from Richard Sherman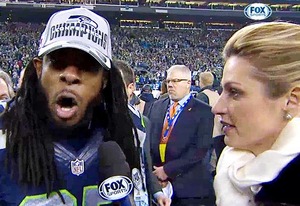 Richard Sherman's 15 second interview at the end of the NFC Championship game triggered millions of comments and opinions. People who knew little about him – or playing in high stakes playoff games – drew conclusions about Sherman's intellect, class, sportsmanship and a myriad of other personal characteristics. Some of these conclusions were undoubtedly wrong. Yet, as is so often the case, perception quickly becomes reality.
What does Sherman's interview have to do with your career in sports business? More than you think!
Sherman spent a lifetime honing his craft, developing into one of the best cornerbacks in the NFL, and ultimately making the play that propelled the Seahawks into the Super Bowl. That is a short sentence, but think of the countless hours of practice and dedication that were required to achieve that goal. But, in the eyes of some, his performance was overshadowed (or at least tarnished) by his public comments broadcast on Fox.
Well, it turns out that athletes are not the only people who "broadcast" poorly chosen messages during the emotional crescendo that is a sporting event. During the first half of Sunday's game, I patrolled Twitter looking for comments that may be viewed as "inappropriate" – particularly for people who work in sports business or want to work in sports.
My search was driven by this tweet from Pam Chvotkin (@reddusfoximus):
Just a note, if you want to work in #sportsbiz, probably best NOT to make fun of any potential employer, including networks, on-air analysts

— Pam Chvotkin (@reddusfoximus) January 20, 2014
So, without much effort in the 20 minutes that followed Ms. Chvotkin's tweet, I came across these examples to illustrate how sports-themed tweets can easily be perceived in a negative way:
Touchdown, bitches. #49ers
You know who else was the 12th man, Seattle? JUDAS.
I feel like as a woman in sports, Doris Burke, Pam Oliver, Jemele Hill mold is the goal. They're not T&A, they are there on merit.
Out of town. No TV. Not watching #NFL. But following hashtag #JoeBuck. Love the vitriol and criticism.
The problem with Twitter during sporting events is that people get too comfortable. They feel like they are on the couch chatting with friends. Yet once you hit "send" on Twitter, your words are in the public domain.
Now none of these tweets is outrageous. But they CAN be read as misogynistic (#1), religiously offensive (#2), insulting to Erin Andrews who was sideline reporter in the game (#3), and disrespectful to broadcasting veteran Joe Buck (#4).
To me the underlying question is: would you want any of these tweets brought up in an interview? If a company in doing its basic background check came across these comments, is there a chance it disqualifies you from a job – and you'll never know why? Absolutely!
Just as Richard Sherman's 15 second interview impacted public perception of his personal brand, your 15 seconds crafting a tweet and hitting "send" has the potential to change the way your brand is viewed in the eyes of potential employers. You have spent years honing your craft and developing a professional reputation – so why put it at risk?