The Intersection of Sports Business and Technology at CES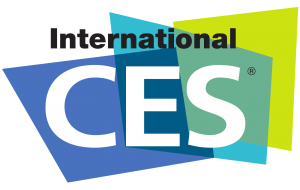 Today's post is courtesy of guest blogger Joshua A. Boren.
"The Intersection of Sports Business and Technology at the World's Largest Consumer Electronics Show"
Smart appliances, curved ultra-high definition televisions, enhanced automobiles, and the "internet of everything" were just a few of this year's trends to emerge from CES 2014 in Las Vegas. The annual Consumer Electronics Show has become a pilgrimage to the desert for those brands, trendsetters, and early adopters looking to make a splash with new product launches and the introduction of unique technologies. By now, we have all seen the stats on how much bigger and bolder this year's show was compared to those in the past:
But what sounds like a scene a scriptwriter would describe for any generic movie about geeks or nerds has actually become a battle ground for sports and entertainment, and your consumer dollars, as well. It would be hard to walk the showroom floors of the Las Vegas Convention Hall and not come away with clear examples of the influence that the sports business industry has on the event. From emerging trends like wearable technology and major sports network announcements to basic licensing plays and athlete appearances, there was no shortage of overlap as sport continues to cement its position at an event like CES. Given the sheer size of the conference, the following highlights are just a few of those seen through the eyes of one sports business executive as he roamed the trade show floor taking in all that CES has to offer for a couple days.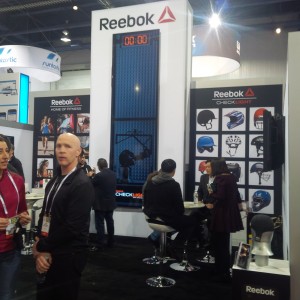 WEARABLE TECHNOLOGY:
In what seemed to be the sector with the largest growth year-over-year at the show, there was no shortage of fitness and health companies promoting the benefits of wearable technology. Whether tracking vitals while exercising or searching for the next legal performance enhancement, the wearable technology area of the event provided ample opportunity for the intersection of sport. Industry leaders like Fitbit had impressive displays while headphone companies like Jaybird pushed new product releases to try and enter the space. Existing athletic companies like Reebok were in attendance promoting solutions for concussion worries (see photo) while new products like iBitz used the opportunity to focus on getting kids healthy and active via gamification. In general, this was clearly one of the hottest areas of growth and it will be interesting to see which of those entrants in the space are still represented next year at CES 2015.
ATHLETE APPEARANCES
With so many like-minded companies in one place, brands were eager to seek ways to differentiate themselves and draw attention to major announcements or exhibits. Celebrity and athlete appearances were prevalent and there was no doubt that the crowds followed. I personally came across or read about at least the following when it came to integrating brands and athletes:
MMA fighter Quinton "Rampage" Jackson for Trident Case
Pro big wave surfer Garrett McNamara for Body Glove
College football analyst and former NFL quarterback Tim Tebow for SOUL Electronics
UFC athlete Brendan Schaub for SOUL Electronics
Former NBA champion Robert Horry for ZTE Corporation
NASCAR Camping World Truck Series racer Germán Quiroga for Otterbox
Formula E car and former F1 driver Lucas di Grassi for Qualcomm
Olympian gymnast Shannon Miller for Polar
Notable Boston Celtics and New England Patriots fan Maria Menounos as the Entertainment Matters Ambassador
NETWORK ANNOUNCEMENTS
In what was one of the biggest show stealers, especially for those of us with an interest in sports business, was the announcement by WWE (and powered by MLB Advanced Media, the technology and internet arm of Major League Baseball) of the first-ever 24/7 streaming wresting entertainment network beginning next month with the launch of WWE Network. While those of us in the industry have been hearing of plans for some time now, the idea of announcing at CES caught me by surprise and really made a strong impression on those in attendance. In fact, Forbes deemed MLB Advanced Media "the biggest winner at last week's Consumer Electronics Show" claiming it hit a home run. Expect more major sports industry technology announcements to follow this model and use CES as a platform for future launches.
LICENSING & ADVERTISING
Upon walking the thousands of exhibits and booths, with hundreds focused on just selling mobile phone and electronics accessories, there were plenty of logos and marks of well-known sporting franchises to market to the masses. Major accessory players like Mizco sported full walls of imagery from the big four professional leagues and NCAA while audio companies like Klipsch made the most with graphics of endorsers like Andrew Luck and Roy Hibbert. Otterbox had photo opportunities available with its sponsored vehicle for the NASCAR Camping World Truck Series while Qualcomm used the opportunity to debut a first ever public demonstration of its involvement with the new fully-electric Formula E car via F1 driver Lucas di Grassi. As a global soccer supporter, I was personally drawn to the Samsung GALAXY 11 display which seemed to be an experiential on-site extension of the enjoyable and ongoing over-the-top "football will save the world" marketing campaign with employees dressed as starship troopers and consumers snapping photos with Cristiano Ronaldo cutouts. Athlete likeness and team marks were popular marketing ploys at this year's CES. View the photo gallery below for some of my snapshots.
MISCELLANEOUS
Even outside of the major trends I have highlighted above there was a great deal of interaction between the sports business world and CES. While official licensing was bountiful there were plenty of brands capitalizing on the more general lifestyle appeal of a sport in attracting consumers. Multiple companies entertaining the action sports markets, like Polaroid who used the platform to launch its new POV Action Cameras, utilized mini-halfpipes and skateboarders to keep energy levels high. The GoPro booth remained packed with a constant flow of traffic as it used its normal antics of hyping up the crowd with free swag and giveaways to draw interest which clearly worked well. Chinese handset manufacturer ZTE Corporation put on frequent performances at its exhibit with cheerleader routines and a basketball street team. It also wasn't hard to find those well-known owners in sports with business interests in technology as respected executives including the Golden State Warriors' Peter Guber and Dallas Mavericks' Mark Cuban roamed the floor and lounges. Even television manufacturers wanting to emphasize the clarity and screen size of new 4K and UHD technology used sport as a platform as we have all seen by now from Darren Rovell's tweet of a TV with a view of an entire soccer field: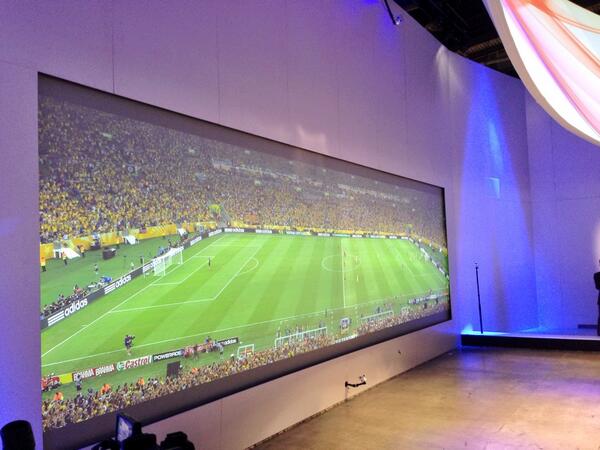 With five full days of networking and events spread out across multiple convention halls, neighboring hotels, and outdoor gathering spaces it would be nearly impossible for one person to cover it all. As such, the examples and summary herein reflect just what I saw first-hand to the best of my abilities as an observer with an eye towards the sports business industry. It will be interesting to return to this review at the end of 2014 to see which brands were able to maximize and sustain momentum throughout the year beginning with their plans from CES in January.
This slideshow requires JavaScript.
Joshua A. Boren (@JoshuaABoren) is the Founder and President of The JABusiness Group, a specialty consulting practice focused on sports, entertainment, and business. Joshua focuses on business development and marketing opportunities across the venue, facility, and event; emerging technology and design; and lifestyle branding and marketing sectors. Current efforts include partnership development for clients including the World Series of Beach Volleyball and digital fan experience company Crowdzilla. Joshua is a graduate of The Wharton School at the University of Pennsylvania and formerly the Director of Business Development for multiple sports design firms including Populous, MEIS, Woods Bagot, and Aedas Sport.