#SportsConf from Hashtag Sports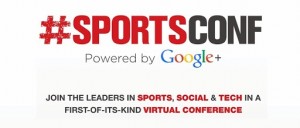 There is a very interesting "virtual" sports technology and digital marketing conference coming up on Tuesday, January 14 that you should definitely check out – #SportsConf 2014, presented by Hashtag Sports and powered by Google+.  This online event gives you the chance to network with and learn from speakers representing brands like adidas, NBA, Octagon, USA Today Sports and Mashable as well as startups like FanDuel, Backplane, Wayin, SportsData, Chirpify and Pogoseat.
Registration is 100% FREE and includes access to the private #SportsConf Google+ Community where topical discussions and additional speaker Q&A opportunities will take place before, during and after the event.
This is also where we will be sourcing questions from attendees over the next ten days to ask industry experts from notable startups including:
Josh Decker – CEO, Tagboard
Gabe Lozano – CEO, LockerDome
Ben Davis – CEO, Phizzle
Bob Morgan – CEO, SportStream
Kash Razzaghi – CEO, FanCred
Carlos Diaz – CEO, Kwarter
Steve Bernema – CEO, Overdog
Other speakers currently scheduled to participate include:
Bo Moon, Co-Founder, Bloomberg Sports
Bryan Srabian, Social Media, San Francisco Giants
Sandy Khaund, Advanced Software Technologies, Turner
Tim Burke, Editor & GIF Master, Deadspin
Jennifer Van Dijk, VP Digital, Wasserman
The full schedule and speaker list will be revealed later this week. For more information and to register, visit hashtagsportsconf.com.