Bright Future at Ivy Sports Symposium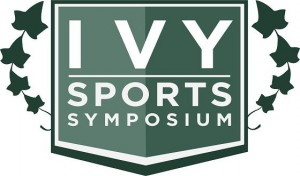 Today's post is courtesy of guest blogger David Simmons.
On November 22nd, the 8th annual Ivy Sports Symposium was held at Harvard University. The conference featured over 100 speakers and 600 attendees. In a laid back conference as far as these things go, students mixed in with sports business executives for a day filled with conversation, networking, and mingling. Participants were treated to panels on everything from social impact to renovations to finance to ticketing. These young students are the next class of sports business executives and I got to catch a glimpse into the next era of sports executives.
One theme that resonated with me throughout the day were that technology and innovation in sports are here to stay. Alex Sugarman of the Chicago Cubs said it best when referring to renovations to his own stadium that these changes "are reflective of overall business growth". The conference speaks to just that effect having grown rapidly since being established in 2006 by Chris Chaney at Princeton University. The Ivy Sports Symposium is a non-profit organization that sets the standard for college-based sports business conferences. The use of data in sports can be seen in many panels whether it measuring impact of charitable initiatives, pricing tickets, or acquiring a team. Meanwhile, innovation is happening in ticketing, fantasy, and on the operations side is well.
A key takeaway from the conference seemed to resonate with the students was how large and vast the sports business is. Most people think of "working in sports" as only for teams. A quick look at the speakers list highlights that is far from the case. The panels were filled with lawyers, financiers, league executives, agency executives, and startup CEO's. The conference highlighted the diversity of the growing sports business marketplace. This speaks largely to a strong job by the organizers in getting a diverse group of speakers to the conference for the students attending.
It would be remiss of me to not talk about tickets as a panel at the conference was dedicated to just that. The panel was led by John Forese of TicketMaster, Matt Griffin of the Boston Celtics, Danielle Maged of StubHub, and Barry Kahn of QCue. John highlighted how TicketMaster is using database segmentation to better market to his customers, while Danielle focused on how excited StubHub was to have the first ever ticketing naming rights deal ever for the StubHub Center in Los Angeles. Meanwhile, Matt spoke to something that seemed relevant throughout the day that his Celtics are not in the transaction business but the relationship business. For the fans, changes to the season ticket holder model and in-game upgrades seem to be coming soon to a venue near you.
If you are a student reading this or a have a student in your household, the conference seems like a must next year for your son or daughter. The symposium combines more knowledge and intimate executive access into one day that you can get from anywhere. In what is a unique setting, the Ivy Sports Symposium again hit a home run. The symposium is going global in the Spring to London before returning to its home next fall in the Ivy Leagues.
For more information on the conference check out www.sportssymposium.org.