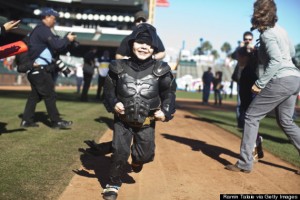 Two weeks ago, the Make-A-Wish Foundation pulled of the greatest social media cause-related marketing event of the Twitter Era with a five year old being transformed into BatKid.
The event took place in San Francisco – which was transformed into Gotham City for a day – and required coordinated efforts from the San Francisco Police Department, the mayor's office, the San Francisco Giants, thousands of volunteers, and even President Obama.
At the most fundamental level, the event accomplished its goal of granting a wish to a five year old suffering from leukemia.  And from a marketing perspective, the event was a monumental success by raising awareness for the Make-A-Wish Foundation, resulting in increased donations.
With that background, it is interesting to consider how the San Francisco Giants (and other brands) benefited from their participation in the event. By making a boy's dreams come true, the Giants garnered millions of impressions on social media – and almost all the associations were positive.
From a branding perspective, this outcome is similar to what sponsors seek from sponsorship – leveraging the positive emotion fans have for teams and transferring that affect to the sponsor. In this case the Giants were beneficiaries of tremendous media (and social media) coverage, and their brand benefited from their connection to BatKid.
But not all the views were positive, as I spotted a tweet pointing out how some people are cynical of this type of marketing. Some people described the day as a publicity stunt, rather than an act of kindness.
Another tweet asked how many mayors wished their PR staffs had come up with this kind of event.
It's unclear whether these tweets are facetious or point to increasing cynicism about cause-related marketing.
In either case, I'd imagine there are many organizations brain-storming ways to create feel-good stories with their brands that garner the attention BatKid did.
What is your feeling on #BatKid? Brilliantly executed, touching story? Or crass publicity stunt? Or both? Can't wait to hear from you in Comments below or on Twitter at @sprtsmktgprof.