The goal of any successful advertisement is to resonate with the customer and drive them to action. Sometimes we get so focused with the desired action, that we don't always get to the underlying emotion that ultimately has the most impact on the action.
Factory Design Labs seemed to be very aware of this in designing a new campaign for the ski resorts Squaw Valley and Alpine Meadows. With so many locations focused on specific attributes of terrain and snow conditions, this campaign tries to get to the root experiences and moments that skiers experience, and drives those moments home with strong imagery and simple stories that skiers will relate to. Here are a couple of examples (click the image to see the full-size version):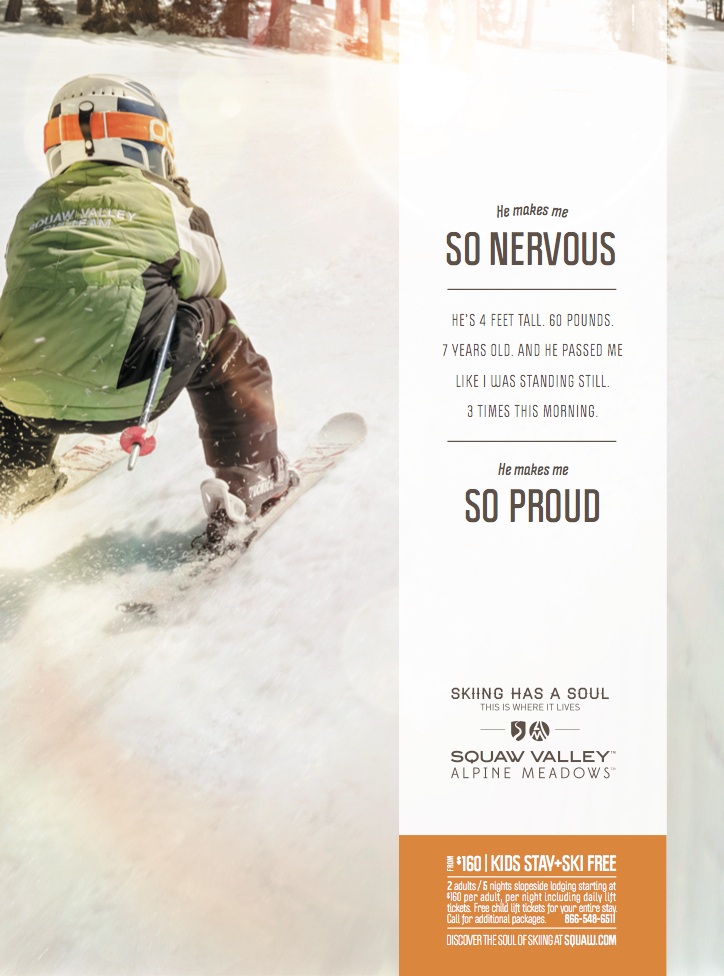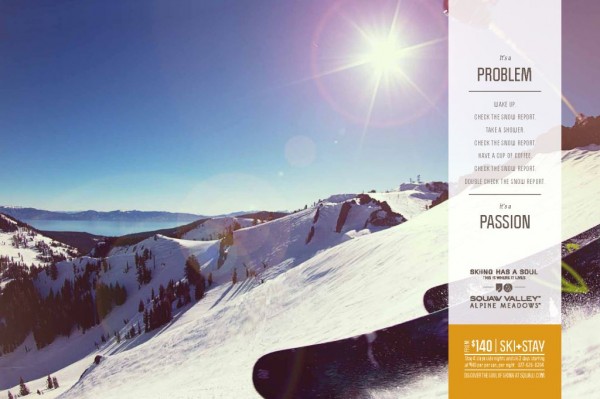 Scott Bowers, Chief Brand Officer, Factory Design Labs, says:  "We built the campaign around the statement, 'Skiing has a soul. This is where it lives.' Squaw Valley have an opportunity to stand out by expressing something unique.  Its heritage spans decades with an authenticity that can't be fabricated so we decided to concentrate on those irreplaceable moments that stay with you forever.  We have brought this to life by creating change through inspiration."
Cara Whitley, Chief Marketing Officer, Squaw Valley, adds:  "The campaign allows us to tell the story of the resort across multiple platforms, bringing to life the adventurous spirit to really engage both our guests and employees in all the things that make Squaw and Alpine such a unique and special destination."
For me, the biggest takeaway which applies to all sports, not just skiing, is that sometimes we need to step back from benefits, features and amenities to dig deeper and find ways to connect with the underlying emotions and inspirational moments that are the real drivers of the sports experience.