Pacers $11 Tickets on 11-11
The Indiana Pacers ran a great promotion yesterday, all based around the number 11. They featured $11 tickets for any November game, on sale for 11 hours, starting at 11AM on November 11th, (also known as 11/11).
In addition, since November 11 was also Veteran's Day, for every ticket sold, they donated a ticket to a military veteran, which make this offer even more compelling. Take a look at the creative used for the campaign, and click the image to view the promotional content on the team website: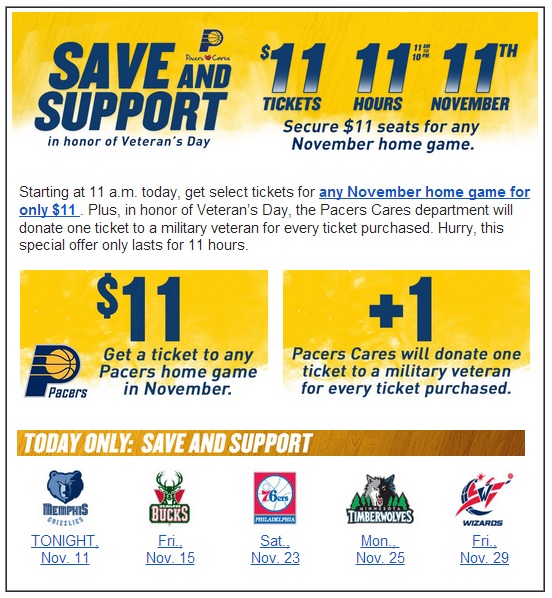 I got in touch with Rob Laycock, VP of Marketing for the Indiana Pacers, to learn a little more about the promotion:
"The campaign was created because we were fortunate enough to have Veterans Day fall on a Pacers home game this season. Like so many sports teams, we take great pride in honoring the military. The Pacers 11/11 Promotion is just one example. It was created in the purest form and that's why we believe it worked so well. We host military veterans throughout the season, so the idea was thrown out to give Pacers fans the chance to contribute to the cause while also enjoying an upcoming game themselves.
Regarding sales numbers, we generally do not share exact figures. However, I'm happy to say plenty of military veterans will get to enjoy an upcoming game thanks to Pacers fans purchasing tickets via the Pacers 11/11 Promotion."
To me, the lesson here is that sometimes the simplest thing, like a unique day of the year, can provide a tremendous opportunity for ticket sales, community outreach and more.