Devils New Approach to the Secondary Market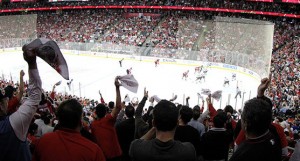 A couple of weeks back, the New Jersey Devils sent an interesting communication to their fans and season ticket holders with the goal of driving more interest in their own secondary marketplace, NHL Ticket Exchange, vs. other options like StubHub and eBay. Read the email below, sent from the Devils' VP of Ticket Sales & Service, Eric Kussin:
We are always striving to offer you the best possible service while protecting the value of the investment you make in Devils tickets. In doing so, we have put measures in place that both maximize and protect your ability to purchase Devils single game tickets.
All Devils fans who buy tickets specifically on the newly improved NHL Ticket Exchange, will be able to immediately download, print or forward those tickets.
You may visit NHL Ticket Exchange by going to newjerseydevils.com, or clicking here, and you will be sent your e-tickets immediately upon purchase. NHL Ticket Exchange is the fastest, safest and most secure way to purchase Devils tickets on the secondary market, to guarantee entrance into the arena. In addition, customers are charged a lower percentage for their sale than on other sites, meaning they can post at competitive prices.
Devils fans who sell tickets on other secondary sites will be limited to forwarding tickets starting 48 hours prior to any Devils home game. Therefore, if you are looking to purchase those tickets in advance through these other secondary ticketing websites, you will not be able to receive your tickets electronically until approximately 24 hours prior to the game.
Through newjerseydevils.com, you may also purchase single game tickets using our interactive seat map and our 3D seat viewer. You may pick exact locations, and check out your sightlines, before making your purchase. Tickets may also be downloaded through an e-ticket, far in advance of the game you wish to purchase and the online fees are lower than those you will find non-approved Devils secondary ticket sites.
Whether it's NHL Ticket Exchange, or newjerseydevils.com, you have two secure, fast and safe ways to pick up Devils tickets for this season, to guarantee entrance into the arena. Opening Night is approaching on Friday, October 4! Make sure you are here for what will be an incredible night!
Sincerely,
Eric Kussin
Vice President, Ticket Sales & Service
So essentially, the Devils are creating a disincentive for using other secondary marketplaces by not allowing tickets to be digitally printed until 48 hours prior to a game. This works because in order for a StubHub purchase to be immediately available to the buyer, the seller must upload the digital version (PDF) of their tickets as part of the posting. Without this, a StubHub ticket seller looking to sell tickets more than 48 hours before a game has two options:
Sell the physical tickets and mail them via UPS, which some buyers may want to avoid for fear of receiving counterfeit tickets
Sell the digital tickets without turning on instant delivery, which means the buyer could purchase something now but not have access to the tickets for weeks or even months.
In looking at future Devils games listed on StubHub, I definitely see a lot more UPS options than you would have seen in the past. I also looked at an "electronic delivery" posting for a game on 12/6, and it shows the message "Available for download by Wednesday, December 04, 2013 (estimate based on when the seller expects to receive the tickets)". I think these limitations could go a long way to driving the value of NHL Ticket Exchange compared to StubHub, especially when you include the fact that the fees for a season ticket holder to sell their tickets are lower on Ticket Exchange.
The one downside of this approach, and it's a big one, is that the season ticket holders have the same 48 hour limitation if they just want to print their own tickets or transfer them to a friend or share partner. This can definitely be seen as an inconvenience for people that share tickets with friends and family and like to plan out who will be using tickets well in advance of the games. To try and make up for this drawback, the team has removed all fees that were previously associated with printing or transferring tickets.
Ticket brokers would definitely be most affected by this change, as they want the most options for posting their tickets and probably do more business on StubHub than Ticket Exchange. It may even be enough of a drawback that some of these accounts may decide to reduce their Devils ticket purchase or walk away altogether. I'm sure this is something that the team considered and ultimately decided they would still gain more value from driving as many resale buyers to their official marketplace, not just from a revenue perspective but also from the amount of new buyers they will see in their database that previously bought tickets elsewhere. It will be interesting to see if other teams follow the Devils' lead with this approach.