This Week's Networking Events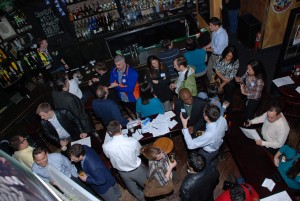 In case you haven't checked out the Event Calendar, we have THREE free sports networking events scheduled for this week!
New York Networking Event
Tuesday, October 22 at The Liberty NYC (29 West 35th St)
Open networking from 6:30 to 9:30PM
Washington, DC Networking Event
Wednesday, October 23 at Blackfinn American Saloon (1620 I Street NW)
Open networking from 6:30 to 8:30PM
Los Angeles Networking Event
Thursday, October 24 at LA Brewing Company (750 Broadway)
Open networking from 6:90 to 9:00PM
These events provide opportunities for sports professionals on all levels to connect with other like-minded individuals and build up their professional network. We hope to see as many of you as we can at one of our events very soon!
Special thanks to Joshua Duboff (NYC), Pam Chvotkin (Washington DC) and Ara Messerlian (Los Angeles) for all of their help with these events!