Schooled: The Price of College Sports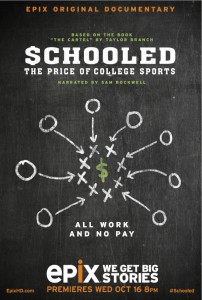 Today's post is courtesy of guest blogger Tyler Becker.
I had the opportunity to attend the New York premiere of "Schooled: The Price of College Sports" on Tuesday night. The screening was followed by a town hall discussion with the film's producers, student athletes, coaches, and industry executives.
The film, "Schooled: The Price of College Sports," airs October 16th at 8:00pm ET on EPIX. It is a documentary focusing on the debate of college sports and student athlete compensation. Essentially, the true question of the film and the panel was, "do student athletes deserve to be paid, or is a tuition-free education enough?" You can watch a trailer for the film below or click here for more clips available on the EPIX YouTube channel:
The four panelists that discussed this question were: Domonique Foxworth (President of the NFLPA), Taylor Branch (Pulitzer Prize Winning author), Devon Ramsay (former University of North Carolina football player), and Andrew Muscato (Producer of "Schooled"). Sean Gregory (Senior Writer at Time Magazine) moderated the panel.
I will highlight several points brought up in conversation during the event, all of which are in favor of paying college athletes, or allowing them more liberties to make money (such as endorsements or sponsorship). If you already feel this way, you will agree with the panelists, and hopefully dig deeper into your belief. If you fall on the other side, and do not think college athletes should be paid, perhaps you will gain some perspective in one way or another.
Taylor Branch told a story about when he spoke to a university class, and at one point, a student pointed out that his school's football and basketball players, "are not viewed the same as most of his fellow students." He said, "student athletes are either looked up to as a superstar, or looked down on as a jock." Branch went on to pose the question, "if you (universities) don't want to pay your players, how can you profit off of them for business?"
NFLPA President Domonique Foxworth said college athletes are integral to the overall business. He also shared his experience as a student athlete, and stressed the education he received was certainly not like the education of his classmates. Foxworth said, "there was a list of majors and programs you would see in all the pamphlets and reading materials. Then, my advisor pulled out a separate, shorter list of majors for student athletes, ones that were much more feasible for us to take." Foxworth ended with, "our motivations were unlike other students too. The coaches wanted to win in order to make more money, so our priority was to win in order to please the coaches. School was not our priority."
Former UNC footballer Devon Ramsay spoke about his struggles as a student athlete, and the story behind the NCAA's decision to declare him permanently ineligible. Why was Ramsay banned? In October of 2010, he was told after practice that he was guilty of academic misconduct for emailing a tutor to look over a paper for minor edits. That email was sent two years prior. Ramsay said, "after that, all I did was visit my friends at nearby schools. I hung out anywhere besides UNC for a while."
Andrew Muscato, the film's producer, touched upon his greatest challenge while making the film: getting student athletes to share their story in front of a camera. Inspired by an article that Branch wrote in October of 2011, Muscato found documenting the industry and its issues to be manageable. However, it was putting faces to these stories that brought about the most difficulties. Students were reluctant to speak out, executives were bashful to share opinion (48 of the 50 schools that were contacted declined to comment), and everyone hesitated to remove the veil. Fortunately, Muscato found the right people in Ramsay, Branch, and several others, to share their stories of the realities in college athletics.
Whether or not you side with the panelists, the issue of student athlete compensation will certainly continue in the sports industry. The debate stems from numerous sides too: the NCAA, the institutions, the student athletes, the families, the sponsors, and so many more. While the tens of billions of dollars surrounding college sports will ultimately stay, the payout could very well shift.
Tyler Becker is a senior at New York University studying Sports Management and Media. You can find him on Twitter at @TylerJBecker.