The Shifting Competitive Environment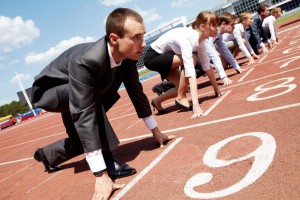 I had been considering a post on the fluid nature of competition when I discovered that Bleacher Report/Turner Sports added lots of new talent to its NBA media roster including the New York Times' Howard Beck and ESPN New York's Jared Zwerling.
This news only reinforced the importance of the article that originally got me started on the topic of competition – this look at how quickly Netflix has realized that its competitive environment has shifted.  Originally, Netflix viewed Blockbuster as its primary competitor, but in just a few short years Netflix self-identified rival has morphed from Hulu to HBO to EVERYONE!
Certainly as originally imagined, NetFlix was not seen as operating in the same competitive space as Amazon (at the time an online bookseller!) or Apple (at the time a computer manufacturer!).
But the world – and the competitive environment – move fast.  The key line from the thought provoking Netflix read is: "(It)… may not seem revelatory, but it's rare for media companies to think of their competition as extending beyond discrete industries like news or music or television."
I would add that businesses often obsess about their direct rivals, that in the moment seem to be most similar.  But strategic focus is needed about the development of NEW rivals. Sports media kingpin ESPN, for example, competes with (relatively) new entrants FoxSports1, CBS Sports Network and NBC Sports for viewers AND for talent.  And it also competes with Bleacher Report – as we saw with today's news – which didn't even exist until 2007.
Let's remember this fluid competitive environment is not limited to sports firms in the media and electronic distribution business. Under Armour's metamorphosis from performance apparel provider to competing with industry rivals in athletic footwear and cleats happened quickly.  In hindsight this evolution is easy to see.  In the late 1990's no one was predicting the competitive landscape changing so rapidly.
And it doesn't stop.  News that budding NBA superstar Steph Curry is leaving Nike, the dominant basketball footwear manufacturer, for Under Armour – which has less than  one percent market share in the basketball market – may be the dawning of a new day in that niche.  Or maybe it won't.  Either way, the takeaway from this screed ought to be that every CEO, every CMO, every employee has to view the competitive environment as vast, fluid and evolving, not just a snapshot of firms with similar product offerings.