Our Next NYC Networking Event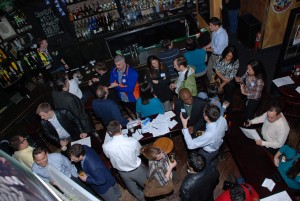 I'm excited to announce that we've scheduled our next New York sports business networking event!
The Business of Sports – New York Networking Event
Tuesday, October 22 at the The Liberty NYC (29 West 35th St)
Open networking from 6:30 to 9:30PM
Free to attend, all backgrounds welcome (No resumes please!)
Come out and network with other sports business professionals that work or live in the New York area. All backgrounds are welcome, from those just starting out to industry veterans. Our New York events are always the biggest, with up to 150+ attendees. As always, there is no charge to attend although registering in advance is greatly appreciated.
Remember, there is one "rule" for these events – no resumes. This event is all about networking and making valuable connections, so bring plenty of business cards and good conversation, but please, no resumes. And for those of you that remember #SBNight from back in January (18 cities!), know that we have starting the planning phase to bring that back again in early 2014 with hopefully even more cities involved!
Special thanks to Joshua Duboff from The Sports Business Exchange for all of his help in organizing and promoting our New York events. None of this would be possible without his help.