Emirates Makes a Splash at Flushing Meadows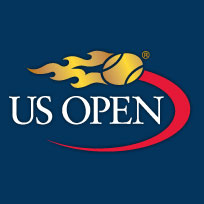 Today's post is courtesy of guest blogger Nikolay Panchev, VP Consumer Research, Turnkey Intelligence.
One of pro sports' top-drawing events, the US Open is known for the unique live event experience it offers:
Flexibility to watch courtside the world's top players compete on more than a dozen courts.
Access to a variety of bars and dining areas, delivering an upscale environment even for grounds pass-only ticket holders.
Memorable interactions between fans and sponsors through thoughtfully designed and implemented onsite activations.
Particularly on the last point, the recently concluded 2013 US Open* was no exception.
Long time partners like American Express and Chase had their usual heavy presence at the event. Enormous Fan Experience lounges spoiled card-holders and potential customers alike. Meanwhile, high-end brands for their respective categories – Grey Goose, Heineken and Moët & Chandon – complemented the festive atmosphere at Billie Jean King National Tennis Center.
However, one of the event's most recent sponsors was perhaps most visible – it was impossible to miss and not be drawn to Emirates Airline's onsite activation area.
Positioned near the main entrance of Arthur Ashe Stadium, Emirates' activation offered a taste of the passenger experience aboard one of its Airbus A380 aircraft. See-through walls allowed the passersby to take a peek at the luxury inside a first-class suite. Many took advantage of the option to experience first-hand the comfort of the seat which reclined to full horizontal position. Next, tennis fans could walk to the A380 Onboarding Lounge, and imagine the opportunity to sit at the bar and socialize with other select Emirates passengers at 30,000 feet.
During their visit to the Emirates Airline's sponsorship activation areas tennis fans engaged in conversation with Emirates flight attendants. This further contributed to full immersion in the Emirates brand but also let fans engage with real brand ambassadors.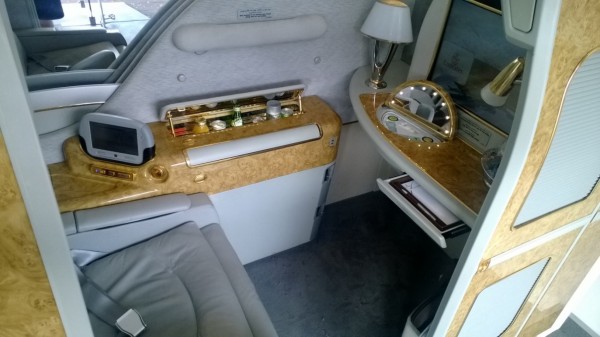 I don't think it would be possible to match the authenticity, knowledge or motivation of someone who represents the Emirates brand daily, with that of field agency staff – no matter how well they are paid or trained. Kudos to Emirates for the decision to pass on the more affordable and prevailing industry practice for their US Open activation.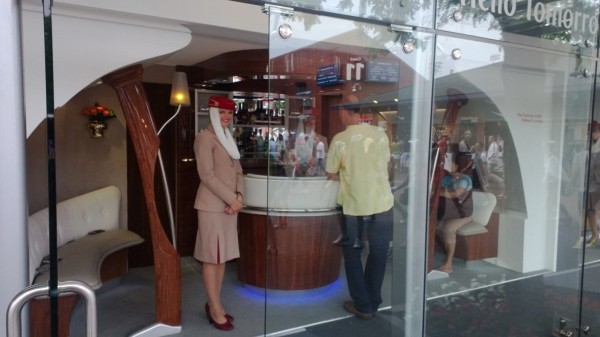 Consistent findings resulting from years of sponsorship-related research at Turnkey Intelligence reveal that the activation is most effective when consumers have a personal and meaningful interaction with the brand. Taking the seat in a replica first-class suite, while an Emirates flight attendant explains the layout of the world's largest passenger aircraft is as close to the real deal as it gets.
At the 2013 US Open Emirates engaged with consumers in a meaningful way, and encouraged them to learn about the brand and retain relevant information. I believe the airline can expect a sizeable lift in brand perceptions and consideration among US Open fans which were exposed to its onsite activation.
Nikolay works with brands and rights holders to assess the effectiveness of live event partnerships, and can be reached by email at nikolaypanchev@turnkeyse.com.
* Disclosure: In 2013 Turnkey Intelligence was retained by the US Open to conduct a customer satisfaction and experience study among ticket buyers and event attendees. Turnkey had no involvement with any specific US Open sponsorships or activations.