College Football and Sports Business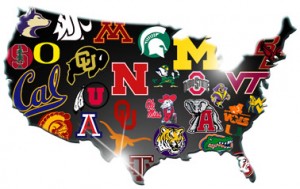 As we approach the start of the College Football Season (yes, with capital letters!), it is a good opportunity to comment on some CFB Sports Business stories  that are receiving media attention.
First, Time Magazine's recent article entitled "College Football Encounters Its Biggest Rival: The Couch" focuses on the decline in attendance at CFB contests, even at "successful" programs – 9 of 14 SEC teams saw a decline in attendance last year, for example.  The article builds the case that this decline is based on the convenience and affordability of simply by watching the game at home.
Certainly there is some merit to this argument. But another view is that traditionally college programs have not embraced sales cultures to identify, prospect and develop relationships with their clients.  There has been a realization on some campuses that the sales function  is outside the university's core competency and so professional sales organizations are increasingly penetrating the college market.  In fact, here is a 2011 article co-authored by Rob Sine (now VP of Ticket Sales for the Pac-12) tackling this topic.
A second topic that is receiving attention is the continuing evolution of football venues' installation of wi-fi. This article on the new Baylor stadium (slated to open in 2014) highlights wi-fi capability.  And even traditional powers that are slow to change are recognizing the importance of wi-fi in their fan experience.  And this trend closely mirrors an issue the NFL has struggled with for years.
Third, as the two earlier topics illustrate, there is increased media coverage of the business side of CFB. Another way this interest manifests itself is through the publication of books.  There are two noteworthy titles out in September:  "The System: The Glory and Scandal of Big-Time College Football" by Jeff Benedict & Armen Keteyian, and "Saturday Millionaires: How Winning Football Builds Winning Colleges" by Kristi Dosh (Editor's Note: Check out yesterday's post with an excerpt from Kristi's book and a contest to win 1 of 3 free copies).  Each book promises lots of new information for fans who aren't satisfied to know just what happens on the field, but want to better understand the inner working of the business of CFB.
So as many prepare to barbecue or tailgate in advance of their favorite team's games this fall, there will be some media and fans preparing for games by ingesting lots of new information about the complex nature of the business of college football.