HBO Real Sports – Red Bull Extreme Marketing
Yesterday, I got to watch an advanced copy of tonight's episode of HBO Real Sports – they sent it to me in particular because of the segment on Red Bull's unique sports marketing approach, thinking it would be a fit for the site…and I'm sure they don't mind me tweeting or writing a post about it either!
Let's start with a preview clip that they put out on YouTube:
There were a few key takeaways from my perspective:
– Brand, Brand, Brand:  Everything about their approach is tied to elevating their brand – their choice of events, their choice of athletes, their methods of creating and distributing content – all of it. Yes, their slogan is "Red Bull Gives You Wings," but its obviously more than just a slogan. They look at themselves as a "global lifestyle brand" where all their consumers and fans (yes, fans) can live vicariously through their experiences. This is a big reason why they have cultivated these more unorganized, unorthodox sports, creating a chance to grow them and grow with a young audience that is drawn to them.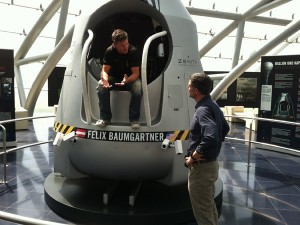 – Strong Athlete Partnership:  Travis Pastrana, one of the earliest Red Bull athletes, had a great quote on this: "Red Bull, every year they go every athlete and say, how can we help you progress your sport. And in doing so, how can you help us take something and make it bigger than its ever been done, not just by a little bit, but by a lot." Even with the risks involved (unfortunately, they have been four base-jumping related deaths in the last five years), the relationship between the brand and the athletes seems very supportive in both directions. This is also clear from the long-standing relationship they've had with Felix Baumgartner, building up over many years to the eventual Stratos jump.
– Content is King:  Ultimately, the driving force behind everything they create is the value of the content, and especially in owning the content outright. They are distributing via more channels, such as TV specials, movie production and lots of YouTube videos, peaking with the 52 million-plus live viewers of the Stratos jump. One of the executives in the video specifically talks about the blurred lines between content and advertising. Rather than take a traditional marketing approach through commercials and sponsorships, they invest to "earn attention" that is more valuable that simple impression counting.
Finally, I thought there was one thing missing from the episode – their ownership of a Major League Soccer franchise. Their approach to soccer is similar in that they own the entire experience rather than sponsoring a team or event, and the Red Bull brand is very front and center both in and out-of-arena. But how does soccer fit into their long-term lifestyle brand positioning, when it is clearly a very different type of sport and experience than the rest of their "extreme" events?
You can watch the full episode tonight, Tuesday, August 20 at 9PM on HBO. Along with the Red Bull segment, I enjoyed the other two features, one on how former wrestler Diamond Dallas Page is using his unique form of yoga to try and help two other former wrestlers battling alcohol and drug addictions, and the other on Donald Trump's miscellaneous legal battles surrounding his dream golf course on the shores of Scotland.