Interview with the Rutgers Scarlet Knight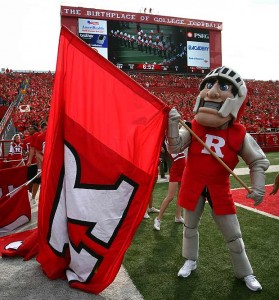 I am a Rutgers University alumnus and have been to countless Rutgers sporting events over the years, so of course I was going to jump at the chance to interview the Scarlet Knight! It was fun to try and get some insight from a mascot's perspective, from his involvement in marketing and community relations to mascot rivalries and "relationships."
Rutgers fans see you at lots of sporting events, but what is your role with the marketing department like? How much planning takes place leading up to the actual events?
SK: There's quite a bit that goes on behind the scenes that most people do not realize. We do events all over the state of New Jersey and making sure I get there on time is critical. It takes a lot of planning in terms of logistics and scheduling to ensure I keep all my of constituents satisfied (students, alums, administrators, etc). I am constantly brainstorming new ideas with the marketing department to incorporate new material and find organic ways to market the "block R." Most people are under the impression that I only appear at basketball and football games. While those are some of the biggest stages I'm fortunate enough to appear on, there is definitely more to my schedule that it seems. Last year, I also started appearing in videos, in a series known as the "Scarlet Knight Life," to promote that week's upcoming football game (Editor's Note: check out the example below). A good example of how quickly I have to switch from one swagger to the next happened this past Saturday. I was at the stadium for the annual Football Kickoff event then had to go straight to a wedding reception in Tinton Falls.
How are you involved in the local community outside of games?
SK: In 2012, I made 111 appearances with an average appearance length of just over 2.5 hours. This includes all athletic events (soccer, volleyball, football, and basketball, etc), all university events, and any public appearance. We recently created the Appearance Request program to further enable the fans greater access to my talents – anyone can request me at any private event. While my appearance is not guaranteed, I will certainly try my best to make it to each and every event. For 2013, I am on pace to do 128 events. At the university level, I have made cameos in music videos, tons of student life events, and all kinds of alumni association events throughout the year. I also participate in many charitable walks and runs in the warmer months. Of course, many of our former players have started charities and I like to stop at those events to show that R family is stronger than ever before. Also, any event that supports Eric LeGrand I am more than happy to make an appearance at. A favorite event of mine in recent years has been Dance Marathon – I've showed up during family hour when the children are welcomed by the dancers. It's one of the most touching events I do. I also appear at Convocation and Graduation to welcome and send off the student body.
Rutgers is transitioning from the Big East to the Big Ten very soon. Are you excited for the move? What is going to be different for you?
SK: I couldn't be more excited for the university as a whole, the state of New Jersey and the promising future. I'm pumped for the move and can't wait to travel to some new destinations and make some new buddies in the Midwest. There's not going to be much different besides new scenery and increased expectations – I need to make sure I get some fresh material to impress my new mascot buddies.
Do you have any friend or enemy mascots over there? Any rivalries you are looking forward to or that you'll miss?
SK: I have a history with Sparty as you can see in this recent ESPN commercial. Obviously, people are going to make comparisons between us due to the similarity of our likeness. Other than that, I do not have a storied history with any of the other mascots. Although I am sure I will quickly create a rapport with the Nittany Lion as he will be the closest Big Ten foe. I won't miss any of the former members of the Big East since I am sure we will be playing them in the near future.
I think all Rutgers fans want to know, is there a Mrs. Scarlet Knight in your life?
SK: Unfortunately, my busy appearance schedule lends very little time to myself so I am currently available.
What are your goals when interacting with fans and enhancing the game experience?
SK: To make everyone, young or old, friend or foe, student or alum, come away smiling. I'm there to get the stadium psyched up for the game and ensure that they are having the best time possible.
Any favorite memories or stories to share?
SK: When Big E walks again.
Finally, do you have any tips and tricks for up-and-coming mascots?
SK: I have three major tips that I always try to keep in mind:
Someone is always watching me so I always have to be on my toes. I am always thinking of my next move.
Don't worry too much about opposing fans – there's always going to be people who try to egg you on, but there's too many true fans who are on your side that need your attention and passion.
Always have fun – I constantly have a smile on my face no matter the setting or the score on the jumbotron!
Thanks again to the Scarlet Knight for answering my questions. If you are in the NY/NJ area and are interested in an appearance from the Scarlet Knight, click here to learn more. You can also follow him on Twitter at @RUScarletKnight or at facebook.com/theRUScarletKnight.