Guest Post: MLB's Post-BioGenesis Outlook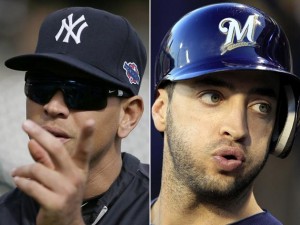 Today's post is courtesy of guest blogger Chris Griffin.
It's hard to say exactly what the end result will be from the BioGenesis saga in Major League Baseball. For weeks now rumors have swirled about potential suspensions and players who may or may not be involved. As of when this blog was completed (Wednesday evening, July 31, 2013), Ryan Braun is still the only player to be/accept a suspension. Latest news has the suspensions being announced on Friday.
It is believed by many that Commissioner Bud Selig, who will be retiring after the completion of next season, is on a mission to rid the sport of PEDs before his tenure ends. For years the sport, and Bud Selig's reign as Commissioner, had thrived on steroid enhanced players. The sport captivated the minds of even the most casual fans with the home run record chase between Mark McGwire and Sammy Sosa in 1998 and then again in 2001 when Barry Bonds hit 73 home runs. Ticket sales, television ratings and the overall interest in the game skyrocketed to unprecedented levels. However, the Mitchell Report in 2007 forever changed the game and has left a steroid-induced cloud shadowing the sport.
From a marketing and business stand point, the hopeful finale to the steroid era could not have come at a better time. Late in 2012, MLB had extended it's television contracts with ESPN, Turner and Fox that will continue to expand coverage of the sport, as well as net the league several billion dollars over the next eight years. Along with the enhanced television coverage, MLB continues to innovate and impress with the products and social media expertise offered from their digital subsidiary, MLB Advanced Media.
With the broadcast and digital ecosystems in place, a premium product needs to be presented. Luckily, Major League Baseball is fortunate to have an abundance of young, exciting players that are poised to become stars. Many fans already aware of Bryce Harper, Mike Trout and Clayton Kershaw. However, other young players such as Yasiel Puig, Wil Meyers, Pedro Alvarez, Manny Machado and Matt Harvey have emerged this season as an additional wave of young talent.
It is unclear at this time exactly how long the shadow of the BioGenesis case will loom. Regardless, business for Major League Baseball is doing well, and is positioned to do well moving forward. Assuming that all the media reports are true, the BioGenesis case should not drastically shock the baseball world as the Mitchell Report did. Instead, Major League Baseball can use this BioGenesis case to usher in a new, steroid-less era led by a core of tremendous young talent that will appeal and capture the attention of fans and sponsors for years to come.
Chris is a recent MBA graduate who studied Marketing and Sports & Entertainment Management at Iona College. A former Division-I athlete and current marketing professional, Chris hopes to turn his passion for sports into a career enhancing the fan experience and generating new revenue streams. You can follow him on Twitter at @i_am_chrisgriff or connect with him on LinkedIn.