New Partnership Recap: Gillette, Sports Trendsmap and Starwood Hotels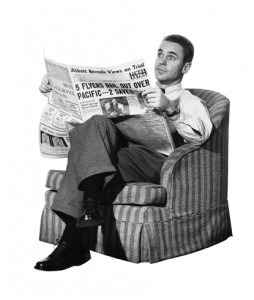 One of the benefits of running this blog is finding out about new, creative and effective partnerships right when they happen. So I will occasionally post a "New Partnership Recap" to highlight these deals. Thanks to the brands and properties (and of course, their PR agencies) for always keeping me up to speed!
Gillette Asks NFL Players, "Are You Built For Training?"
Gillette in association with the NFL Media group debuts Gillette Deodorant's "Built for Training" program, a six-installment web series that gives sports fans an inside look at some of the tough elements of NFL Training Camp through the eyes of hopeful rookies and their seasoned mentors. Veterans from the Cincinnati Bengals, Denver Broncos and Pittsburgh Steelers will each take one eager rookie under his wing to show him the ropes and test whether or not they – and Gillette Clear Gel anti-perspirant / deodorant – are built for training.
The veteran-rookie pairings featured in the series include defensive backs Champ Bailey and Kayvon Webster of the Denver Broncos, linemen Ramon Foster and Mike Golic Jr. of the Pittsburgh Steelers and running backs BenJarvus Green-Ellis and Giovani Bernard of the Cincinnati Bengals. Gillette Clear Gel's "Built for Training" webisodes will feature everything from workouts, training sessions and team huddles, to player introductions, arrivals to camp and meal time.
"At NFL Training Camp, 'give everything' is just part of the drill; 'smell nothing' is usually not, which is why Gillette brought these talented players together to put their bodies and Gillette Clear Gel to the test," said Doug Sticksel, associate brand manager, Gillette Personal Care . "These athletes have to thrive under pressure and through challenging workouts, so their deodorant should do the same. Designed with the high-performing man in mind, only Gillette Clear Gel eliminates body odor at the source, even during tough physical demands – such as NFL Training Camp."
Episodes, produced by NFL Films, will be featured exclusively at www.nfl.com/builtfortraining with a teaser episode premiering today and weekly installments posting each Tuesday through Sept 3.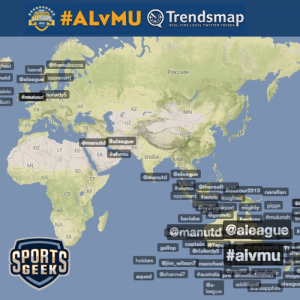 Sports Geek Launches Sports Trendsmap
Sports Geek has launched a new partnership with Trendsmap to create their first Sports Trendsmap for the A-League All-Stars match against a team that just joined Twitter Manchester United (AKA @ManUtd).
You can check out the #ALvMU Trendsmap here, it identifies trends around the game hashtag and provides heat maps, top video and picture content and more. We will be producing social content for the @ALeague to share during the broadcast as we can pull up trends around the game as well as share Word maps like this one (right). Fore more information, visit http://sportsgeekhq.com/sportstrendsmap/.
Starwood Preferred Guest and Westin Hotels Serve an Ace at the 2013 US Open
Starwood Hotels & Resorts announced its award-winning Starwood Preferred Guest program is serving members the opportunity to experience the 2013 US Open firsthand from Monday, August 26 through Monday, September 9 at the USTA Billie Jean King National Tennis Center. Members can bid Starpoints for experiences including a private tennis clinic with Andy Roddick, courtside seats to the match of their choice, behind-the-scenes access to tour the stadium and media center and more starting today.
Westin Hotels remains an official sponsor of the US Open in 2013, and is a presenting sponsor of US Open Live on USOpen.org. Westin hotels will also be giving away free Heavenly Beds at several sessions throughout the tournament to lucky fans. "The US Open is one of our members' favorite annual events. In fact, last year's men's finals was such a popular SPG Moment it became the highest bidding auction for the year," said Mark Vondrasek, Senior Vice President, Distribution, Loyalty & Partnership for Starwood. "Through our partnership with the USTA, SPG not only offers our members courtside seats to enjoy some the best tennis in the world with friends and family, but gives them the opportunity play with one of the sport's greatest players, Andy Roddick ."
Building on its legacy for once-in-a-lifetime member opportunities, SPG is giving members the chance to play with 2003 US Open Champion Andy Roddick. Ten winning bidders will hit the court with the former World Number One player during a one-hour tennis clinic and bring a guest to watch the action courtside. Following the clinic, the SPG members will take in the men's singles semifinal matches in the SPG Luxury Suite. SPG is also offering a number of ways for members to access truly memorable SPG Moments at the US Open through spg.com/Moments, including:
Courtside seats to matches throughout the US Open in the heart of the action at Arthur Ashe Stadium
Access to watch a match from the SPG Luxury Suite, including food and beverages, right at center court
Breakfast for two in the exclusive Player's Dining Room at Arthur Ashe Stadium
Opportunity to bring young tennis fans to Arthur Ashe Kids' Day for a day-long family event with interactive games for kids of all ages
Behind-the-scenes stadium tours including access to the US Open Media Center
Finally, tennis and travel fans in the US can visit spg.com/USOpen to enter to win a trip to NYC, including two nights in the Presidential Suite at the Westin New York Grand Central and a pair of courtside tickets to the US Open Men's Singles Final. Members in the tri-state will also have the opportunity to win courtside seats throughout the tournament by using #BringMeSPG on Twitter. Additionally, members with tickets to the US Open who visit the SPG booth at the South Plaza and show their SPG card will receive a surprise gift.