A Twitter Rivalry Escalates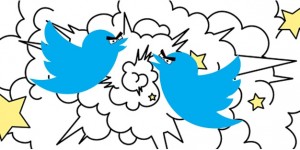 A few weeks back, I wrote a post about a couple of college bowl games that had some fun tweeting back and forth at each other.
Then a couple of weeks ago, there was a really fun tweet-and-response between the San Jose Sharks and ESPN after the TV movie "Sharknado" took the world by storm:
Hey @espn, thoughts on showing more hockey highlights?

— San Jose Sharks (@SanJoseSharks) July 12, 2013
Now most recently, the Red Sox and the Tampa Bay Rays have gotten into a virtual tussle. First it was the Rays responding to David Ortiz's dugout phone-bashing:
WANTED: Steel alloy telephone with Kevlar cord. Will spare no expense. Must install by Sept. 10.

— Tampa Bay Rays (@RaysBaseball) July 28, 2013
MLB tried to jump in with their own bit of humor around the Red Sox "phone repair"…
Can you hear me now? @RedSox 'repair' dugout phone after @davidortiz's outburst: http://t.co/ZPIgy45tQx pic.twitter.com/omUxyWs2A6

— MLB (@MLB) July 28, 2013
…but unfortunately, it backfired because of the t-shirt typo, which Rays' pitcher David Price jumped all over:
lol…you're*RT @MLB: Can you hear me now? 'repair' dugout phone after @davidortiz's outburst: http://t.co/TRZctYPikK pic.twitter.com/HLoZsiLufh

— David Price (@DAVIDprice14) July 28, 2013
And finally, after last night's controversial game, both teams were at it again, but this time, the Rays went for the jugular with the Twitter-equivalent of the old "scoreboard" chant. The Red Sox didn't back down one inch (or since it's Twitter, one character?), referring to their next visit to Tampa as "home games":
Don't worry @raysbaseball we look forward to seeing you in Tampa in September for our home games at the Trop.

— Boston Red Sox (@RedSox) July 30, 2013
So what's my take on all of this? At a very basic level, I love it. I'll shout it from the rooftops that social media works best when brands allow their personality and the personality of their staff to come through. It makes the content more genuine, drives more conversation and creates memorable virtual moments. With regard to the last two tweets, I've seen some opinions that the teams are taking it too far, and they are probably tip-toeing around that virtual line, but I have a feeling that demand for tickets for that September series will be up. This is a fun way that social media can drive ticket sales without the need for a "buy tickets" link inside your actual tweets.
If I worked for either of these teams, I would schedule a call with both team's social media staffs for two reasons. One, to make sure that everything stays courteous and professional (this might have happened before the recent tweets were sent). And two, to come up with a strategy for the series in September. I'm not saying they should plan out any specific Twitter dialogue, but a bit of brainstorming around how the banter can continue and keep the fans of both clubs socially engaged (while making sure no one gets offended) can help them make the most of this opportunity.
UPDATE 1: While it seems like I can still embed yesterday's tweet from the Red Sox for now ("Don't worry @raysbaseball we look forward to seeing you in Tampa in September for our home games at the Trop."), it has been deleted from their account (No it hasn't – see below). Someone higher up in the organization may have decided this message was not a good fit for their brand (hat tip to @mahoney and @dougwarf for some discussion on this topic). A team's social media staff should have some amount of freedom in what they say in order to let that personality come through – you don't want your tweets to sound like press releases. However, they have to be on the same page with the rest of the organization as far as what is on vs. off message. This comes down to proper training, open communication and a strong company culture.
UPDATE 2: Now I'm the one backtracking! The Red Sox did not delete the tweet – sorry @RedSox! Even though the tweet didn't begin with @raysbaseball, it was still created as a reply, so it only shows on the @RedSox feed if you select "All" (instead of "No Replies"). Rather than delete my first update, I'm adding this because I think the comments on brand and culture fit are still important to recognize.