Guest Post: U.S. Open Series Kicks Off 10th Year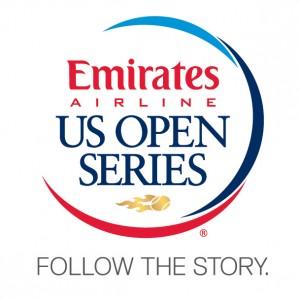 Today's post is courtesy of guest blogger Erik Gudris.
The U.S. Open Series, which once proclaimed itself the "greatest road trip in sports", is rolling back into action this week. The nine tournament series that leads up to the final Grand Slam of the year in Flushing Meadows, New York continues to generate interest in pro tennis across North America.
But since its inception in 2004, the road has not been a smooth one at times for the series that included early skepticism, several sponsor changes and a few events either closing up for good or switching cities, some out of the U.S. entirely.
Former USTA executive Arlen Kantarian came up with the idea of a unifying series for the lead-up events before the U.S. Open. His goal was not only to increase television coverage, especially for the smaller tournaments involved, but to create a framework similar to the NFL playoffs where fans would be compelled to tune in each week to see how their favorite player was doing.
Not everyone was happy about the idea at first though. According to the L.A. Times, tournament organizers in Europe were concerned about this "tour within a tour" concept that they thought threatened their own events. The WTA event in Carlsbad, Calif., which was, at that time, the largest women's tournament prior to the U.S. Open, didn't want to be a part of the series at all. That was largely due to that event signing a major sponsorship deal with Honda and feeling that the terms given by the USTA were not generous enough.
In time, the Carlsbad event did join the series. But with tennis today continuing to be dominated by European players, those summer clay-court events overseas that felt threatened are still thriving. Roger Federer, who lost early at Wimbledon this year, chose to get in extra matches in Hamburg and Gstaad rather than at this week's event in Atlanta played on hard courts.
It is that lack of having the ATP Tour's elite compete more often in America during the summer that has proven detrimental to some of the smaller events in the series. ATP events in Indianapolis, Los Angeles and New Haven all ended, largely due to dwindling attendance based on less then star-filled lineups. The Indianapolis event moved to Atlanta, the New Haven event transferred to Winston-Salem, while L.A, which was one of the oldest tennis tournaments in America, was sold to organizers in Bogota, Colombia.
One of the main incentives of the series to get more players involved are the bonus points awarded each week. Pros earn bonus points based on how well they do at each event. The top three finishers, who collect the most points for both the men and women, then have a chance to earn bonus money, up to $2.6 million, based on how well they do at the U.S. Open.
This has resulted in some of the largest paychecks ever in tennis history. In 2007, Federer collected $2.4 million for winning the series and the U.S. Open. Kim Clijsters, who won both in 2005 and 2010, picked up $2.2 million each time.
Though the extra cash is tempting, it doesn't yet entice enough of the biggest stars to show up at the smaller events. After a long swing through Europe, many of the top players choose now to show up at the two mandatory and largest series tournaments held in Canada and Cincinnati. This cherry-picking scheduling then negates the series' original goal of having players compete week in and week out.
Fans themselves are divided in their interest in the bonus race as well. Some pay close attention to which players are in the lead each week. Others prefer to focus only on the actual results regardless of who is ahead in the series.
Despite these lingering issues, the health of the U.S. Open Series has never been better. After multiple sponsor changes over the years, Emirates Airlines renewed its commitment as the lead sponsor providing support not only for the series, but various other USTA initiatives. Television coverage continues to increase as well. This summer, ESPN plans to broadcast over 90 hours of the series during the five weeks with Tennis Channel planning 120 hours of live coverage as well.
The summer hard court swing always brings American tennis into sharp focus for casual followers of the sport. Though Serena Williams remains World No.1, a recent crop of rising young American women suggests that Williams may not be the lone U.S. player in the WTA top ten for long. Things are not so certain for the American men though. Last year's retirement of Andy Roddick has left a void in terms of who will be the next man to take his place as U.S. No. 1. Roddick's appearance at the smaller U.S. Open Series events was often necessary in terms of boosting attendance. How these smaller events fare without him this summer will be one of the interesting things to watch.
The U.S. Open Series may have some bumps in the road to deal with yet. But it is very likely this traveling summer show featuring the best in tennis will continue making stops in a city near you for years to come.
Erik Gudris is a tennis writer whose work appears in USA Today, Tennis Now and Steve G Tennis. Follow him on Twitter at @ATNtennis.