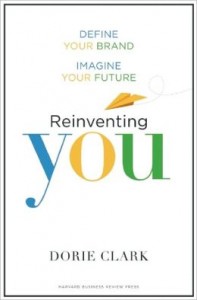 One consistent theme in sports business is change. Organizations change. Fans evolve. New products are developed. Technology prompts transformation. Competition sparks innovation. And it is important to keep these same topics in mind when managing your career in sports business. They can provide an entry point for those from other industries who dream of finding a career in sports.
I recently read the excellent Reinventing You: Define Your Brand, Imagine Your Future by Dorie Clark. In it she clearly makes the case for defining and refining your personal brand, identifying professional opportunities, and developing a narrative that tells the story of how your skills and experiences make you an attractive candidate for your next role.
Clark, whose own diverse background includes work in politics, with non-profits, in consulting and academe, makes the case that the path to career success is no longer about finding a great company, biding your time and moving up the corporate ladder. Instead an entrepreneurial mindset is required.
The key to the book's success is three-fold. First, the suggestions are backed up by actions to execute. For example, instead of simply suggesting you find a Mentor (Chapter 6), Ms. Clark gives specific behavioral ideas for identifying, approaching and developing deep relationships with Mentors.
Second, in each chapter there are several alternative suggestions. This is not the typical one-size-fits all career book. Instead, there are multiple ideas offered on each topic and the reader can decide which suggestion – or combination of suggestions – to implement.
Third, the anecdotes Ms. Clark provides of people who have switched careers, found new jobs, taken on new responsibilities and developed new personal brands are inspiring. But not all had immediate success! In fact the stories of people who tried new ventures and failed are the most compelling. In some cases they returned to their former roles reinvigorated after a "grass-is-always-greener experience", while others' new adventures ended up far different than what they set out to accomplish. Both cases provide a great reminder that reinventing yourself requires work and the path to career fulfillment is not linear.
The book also highlights the integration of Social Media in managing your personal brand. The book prompted me to start using Tout as an additional platform for creating video content. Ms. Clark's recent article on content creation in Forbes featuring Gary Vaynerchuk sheds further light on this evolving trend.
So while the book is not written with a sports industry audience in mind, the lessons offered may prove invaluable in managing your own career in these rapidly changing times.  Insights gained from reading Reinventing You will also help you recognize talented people from diverse backgrounds who can bring great value to your organization.