Excerpt from Social Media in Sport Marketing
Some good friends of mine (
Tim Newman, Jason Peck, Charles Harris, and Brendan Wilhide) recently published a textbook titled "Social Media in Sport Marketing" that I highly encourage any interested students and educators to take a look at. Here is an excerpt from Chapter 2: Introduction to Principles of Sport Communication, Marketing, and Social Media:
The New Model of Sport Communication (1990s–Present)
The traditional communication model in which the media had a monopoly and could dictate the what, when, and how of distributing sport began to change when Home Box Office (HBO) began airing boxing matches in the 1970s. This was followed by satellite programming that allowed people to watch games live without waiting for the taped versions of the events to be shown on their local stations (Federal Communications Commission, 2005).
The technologies of home computers, Internet, satellite television, and digital transmissions created two immediate impacts for sport communication: (1) the power of traditional mass media decreased as fans benefited from multiple consumption options, such as live streaming and satellite radio, and (2) the sport audience became empowered as never before to consume sporting events as they desired instead of only as made available by the media (Schultz, Caskey, & Esherick, 2010). In fact, social media has expanded the "coverage" of sport to all the time as people talk about teams, players, and organizations twenty-four hours a day, seven days a week. Professionals in the field of sport must understand that they always, at all hours of the day, represent the organization they work for and that the personal/professional line cannot easily be separated in the global arena of social media (Favorito, 2011).
Perhaps the most important effect of these technologies, however, has been greater audience empowerment: Individuals use technologies to become actual participants in the sport communication process. Furthermore, fans have started to challenge the mainstream media by creating and distributing content independent from them. Through the use of social media and the Internet, individuals are able to create and comment on content in the world of sport at any time. When a story emerges (or sometimes is even unconfirmed), people post messages on blogs, Twitter, or message boards. These stories quickly gain traction without being published in a mainstream news outlet. Even major news outlets and television shows are now using social media to take polls and gather comments about stories to show on the bottom of the screen to enable greater levels of participation amongst viewers.
As Exhibit 2.1 illustrates, the coverage of a sport story in the modern communication model depends upon the intricate flow between the media and audience. According to sport media professionals at Sports Media Challenge (SMC), the shift has gone from a time when communication / marketing professionals would put out materials based upon what they wanted to discuss or what they felt the public wanted to hear to now, when it is more of "a conversation, where the fans get to say what they want to talk about and get to direct where the marketing focus needs to be" (Garner, Patrick, Barrett, & Lane, 2010).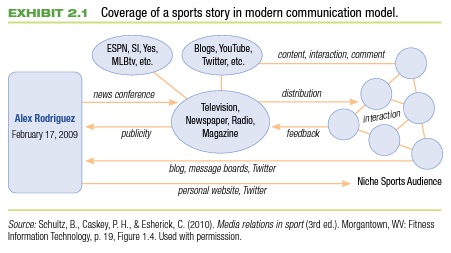 For more information on the book, visit http://bit.ly/SMSPORTS.