Guest Post: ESPN's Deal for the U.S. Open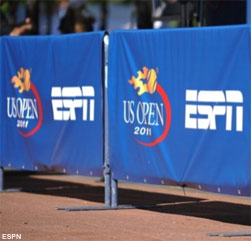 Today's post is courtesy of guest blogger Erik Gudris.
It did not come as a complete surprise when ESPN and the United States Tennis Association (USTA) made a joint announcement last week that the sports network would be taking over all of the North American broadcast rights to the U.S. Open – one of the four major tournaments that make up the "Grand Slam" of tennis. After enduring declining ratings and having to reschedule airing of an often rain -plagued men's final from Sunday to Monday for several years now, CBS finally gave up its broadcast rights despite having shown the event since 1968.
But what was a tad surprising about the announcement was the price tag attached to the deal. ESPN will pay the USTA $770 million over an 11-year period starting in 2015 when the CBS contract concludes. According to Sports Business Journal, CBS passed on a chance to renew its broadcast portion of coverage for around $30 million a year. ESPN will pay more than $70 million a year for all U.S. Open rights, including coverage of the lead-up events that are part of the Emirates Airlines U.S. Open Series.
So why did ESPN, who has presented early rounds of the U.S. Open since 2009, pay more for a product that has been going down in ratings, not up? Aside from increased advertising and other revenue opportunities that the network gets by having "first to last ball" coverage, the network believes that through its various platforms that include the flagship channel ESPN, ESPN2 and WatchESPN, its digital streaming service, that ratings will rise in the next few years. ESPN also plans to offer live coverage in some form of all 17 show courts at the National Tennis Center in Flushing Meadows so that tennis fans will have an endless amount of matches to watch as part of ESPN's planned 130+ hours of coverage, another incentive they hope will attract more viewers.
While ESPN may have the technological means to show coverage from every court at the U.S. Open, what they can't control is who will actually be playing on those courts. Unlike football, basketball, baseball and other team sports, tennis is solely dependent on the individual stars it creates and having those stars be compelling enough to attract fans, either to purchase tickets to see them live at tournaments or tune in to watch them from whatever electronic device suits them. Of course, team sports has its own breakout stars that command attention week in and week out, but ultimately viewers will cheer on their favorite team, even if the star player is sitting on the bench.
By the year 2026, when ESPN's new contract with the USTA will expire, the tennis landscape will be very different than it is now. While we are seeing more tennis pros play into their early 30's these days, unless there are extreme advances in racquet technology and keeping athletes healthy, we are very unlikely to see these same pros compete into their 40s. That means we probably won't see the likes of Roger Federer, Rafael Nadal, Maria Sharapova and many more of the current faces of the ATP and WTA tours. (I would add Serena Williams onto this list, but with her current domination of the women's tour at age 31, she just might keep on playing into her late 30's like Martina Navratilova did who herself retired from singles play at 37.)
Nobody, not even those at ESPN, knows who the next tennis stars will be in a decade and if those stars will achieve the kind of household recognition that Federer, Nadal, Sharapova, and Williams have earned. While it is true that every generation creates its own champions, these new winners will have their work cut out for them to match the level of interest that the current "Golden Age" of men's tennis has earned or the compelling narrative of the Williams Sisters and their rise to superstardom.
While that is out of their hands, ESPN and the USTA are probably both hoping for more American players to do well in the future, especially on the men's side. Over the last several years, several smaller U.S. based events, including long-running tournaments in San Jose and Los Angeles were both sold for a variety of reasons but one of the biggest being the lack of depth in U.S. men's tennis that resulted in decreasing ticket sales. Things are a tad brighter on the women's side with 12 Americans currently ranked inside the WTA top 100. While the U.S. Open is a two-week extravaganza that always sells out, it is those fans who can't travel to New York who will determine whether or they not they feel like tuning into see who is playing, no matter how many ways ESPN offers coverage to them. Having multiple American players not only compete, but also be contenders for the title, will be a big factor in the final ratings of future U.S. Opens.
Even with ESPN's commitment to carrying more hours of tennis, some have wondered how the network will fit in the U.S. Open into a busy late August to early September schedule that is filled with college football. Others have expressed concern that ratings will dip even more now that those who do not subscribe to cable won't have access to ESPN's coverage. ESPN President John Skipper addressed this by saying, "With all the platforms that we have digitally, we have made a commitment that we will put every match during the course of this agreement, will be made available either on ESPN, ESPN2 or ESPN3. We presented last year a coherent start-to-finish presentation of Wimbledon and the audience went up, it did not go down. So this sort of old canard that there's something to be lost by going from broadcast to cable I would submit has it wrong. It is just the opposite. Moving to ESPN allows an opportunity to reach more people across more platforms and that's what we believe will happen."
Tennis will always be a niche sport in America. But it still has the power to attract a core audience that advertisers, especially for luxury goods, crave to market to. That reality and the plethora of technological advances in how viewers consume content is a small part as to why ESPN made such a big bet on the future of the U.S. Open. The USTA is certainly happy because they now have a long-term partner who will help finance needed renovations at the National Tennis Center and help fund a recent increase in prize money that some say adverted a players' strike. Will ESPN be as happy with the deal they just made? We probably won't really know until 2026 rolls around.
Erik Gudris is a tennis writer whose work has appeared in USA Today, Tennis Now and Tennis View Magazine. Follow him on Twitter at @ATNtennis.