Guest Post: The Marketing Value of a Student Athlete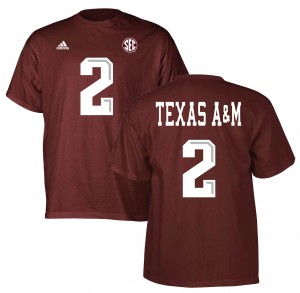 Today's post is courtesy of guest blogger Jake Cohen.
When entering the University of Georgia bookstore, #11 jerseys line the walls in celebration of the Dawgs' 12-2 record and SEC East Championship.  At $60 apiece, these jerseys fly off the racks as the Georgia faithful purchase any type of apparel adorned with their favorite collegiate athletes' numbers in order to support the student-athletes who dedicate their lives to representing the university.  The NCAA would argue that these jerseys are just as much Connor Norman's (UGA former walk-on and special teams ace) as they are Aaron Murray's (All-SEC Quarterback), but common sense dictates otherwise.  Due in large part to the sale of this apparel, ticket sales and TV rights, the University of Georgia Athletic Department brought in revenue of $92,341,067 in the last fiscal year. This is an astonishing number in comparison to the value of an annual athletic scholarship, which USA Today estimates to be around $120,000.  Is this value of a scholarship a fair trade off for the typical student athlete? Absolutely.  Is this a fair trade-off for all student athletes? Absolutely Not.
In the capitalist world that Americans live in, the idea of a free market economy in which citizens should be able to profit from their skills and services is the backbone behind the ideals in which the system lies.  To the average scholarship athlete, $120,000 is more than a sufficient amount of value given the services that they provide to the university.  This does not include the value that the Johnny Manziels, Marcus Lattimores and Aaron Murrays of the world bring to their respective colleges and athletic departments, while being prohibited by the NCAA to benefit from their successes themselves.  According to ESPN's Michelle Steele, Baylor estimated that the Heisman win was worth $250 million in extra donations, increased ticket sales, licensing fees, sponsorship deals, and an expanded deal with Fox Sports Southwest following Robert Griffin III's Heisman Trophy Season in 2011.  The contrast in value of these athletes is astonishing and needs to be rectified.
With the difficulty in finding an equitable way to pay collegiate athletes and not ruin the amateur experience that being a student athlete is supposed to bring to these individuals, a different approach is needed to compensate the upper echelon student athletes who stand above the pack.  Despite the revenue provided by most universities' football and basketball teams, very few athletic departments actually turn a profit.  These athletic departments utilized the funds provided by the football and basketball teams to support the remaining sports on campus that usually operate in the red during a fiscal year.  This would thus make it almost impossible for some athletic departments to come up with the funds to pay each student athlete.  It is for this reason that I believe it is necessary to separate a student athlete's marketing endeavors from his or her on-field performance.
If these two money making sources are differentiated, each athlete remains on a level playing field by receiving the same athletic scholarship for their participation in their on-field activities, while the top tier athletes would be able to profit from their successes through endorsement deals, apparel royalties and appearance fees.  No money is taken out of the athletic departments' budgets and student athletes are free to benefit from their hard earned success.  These endorsement deals and appearance fees are somewhat of a compromise, being that no value is taken from the schools, but these athletes would be able to receive compensation for their services.  Each athlete wouldn't receive the same amount of marketing dollars, but that is the capitalist world that we live in.  Employees at almost any job aren't equivalent in skill level and thus are compensated differently.  This rationale should be followed when it comes to collegiate athletics for many of the same reasons.  Anyone who tries to preach amateurism and the value of education is kidding themselves when referring to big time college athletics.  All they have to do is refer to the $610 million that ESPN pays out to the NCAA annually to televise the BCS football bowl games.  The business of collegiate athletics is just that, a business and should be treated like one.  Collegiate athletes should not be punished on the notion that representing their school and the value of an education is equitable to the services they provide, because it is not.  Waiting for their professional career is not always an option for collegiate athletes, because for many, that day may never come.
If one thing is certain about the transition from collegiate sports to professional sports, it is that it is unpredictable.  For every success story of Robert Griffin III and Andrew Luck who have transitioned flawlessly into the NFL, there is a story about Eric Crouch or Jason White, both of whom won the Heisman Trophy for being the NCAA's most outstanding football player, but had little more than a cup of coffee with NFL teams.  It is for this reason, that these athletes should be able to profit from their accomplishments while they are at school and while their accomplishments are relevant and at peak value.  For elite collegiate athletes, they could receive more than $100 a signature and hundreds of thousands of dollars in endorsement deals.  This money could be used to start up a business or provide for their families after their athletic career is complete.  If these off the field endeavors affect their school work or athletic participation, they are only hurting themselves and their own future.  With the right guidance and advice, these students should be able to find the right balance of providing for themselves and their families, while living the life of a dedicated student-athlete at which ever university they choose to attend.
There are definitely athletes who succeed in high school, then live a comfortable life while continuing their success in college and eventually having a prosperous career in professional athletics.  This career path is definitely not the typical route, and there are many factors that can affect these athletes during this time.  The uncertainty and the large discrepancy between the value provided and the value received by some premier student athletes, is the reason that the NCAA's current policy on student-athletes benefiting from their on-field success and popularity is unfair and needs to be changed.  Under the proposed system, student -athletes would be able to receive the appropriate market compensation in terms of their marketing value, while not affecting the typical student-athlete or the universities that they attend.  These student athletes will no longer be exploited for economic gain, and big time collegiate athletics will finally compensate those who are at the forefront to their respective universities' athletic successes.
Jake Cohen's passion for the sports industry has taken him to the Queen City (Charlotte), where he works for Octagon, an industry leader in the sports marketing world.  By ways of Pittsburgh, PA and the University of Georgia, Jake has been able to cultivate his expertise in the area and share his experiences through his writing.