By now, I'm sure most of you have seen the news that Mark Cuban and the Dallas Mavericks are crowdsourcing a new look for their uniforms in 2015-16. You can read his own blog post on this topic over on blogmaverick.com.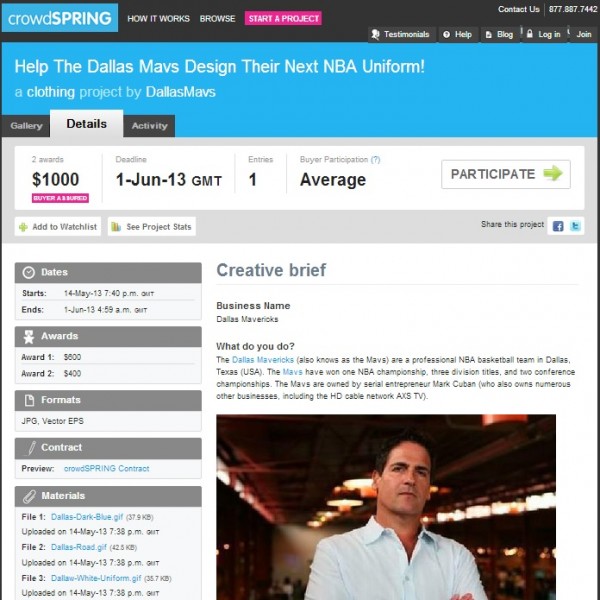 I have a few quick thoughts on this initiative that I want to share:
First and foremost, I am a big fan of crowdsourcing and applaud the idea. I am curious to see if there will also be a public voting process to select finalists that many graphic design crowdsourcing projects use. I know the team would never give up control of any final decisions, nor should they.
I like how he is very upfront about who will own any and all designs that come from this effort. If a designer doesn't want to cede control, then they should simply not participate.
There are many platforms to run this type of initiative, or it could be run internal through a file upload process direct to the team, but they rolled this out with crowdSPRING. I wonder if this led to a sponsorship agreement with the team, as it had to have generated a lot of traffic and designer participation for the site. Could this be a new opportunity for digital sponsorships? There are plenty of things that could be crowdsourced besides jerseys.
The prize money being offered is disappointing considering the potential impact this could have on merchandise revenue. Clearly they don't need to offer a lot to get a high volume of participation, but $600 for first place?
To me, the real potential value in this will come from the volume of submissions, not just the two top designs. The range of creativity that they are tapping into through the power of the crowd could inspire a wide range of ideas for the Mavericks brand, merchandise, in-arena graphics, digital creative and much more.
—–
UPDATE: I was able to get send a couple of questions to Ross Kimbarovsky, co-founder of crowdSPRING. Here's what he had to say:
Who is providing the reward and how were the amounts selected?
"Beyond public recognition, Mark Cuban offered a few tickets to Dallas Mavs games if he really liked a design. crowdSPRING offered awards totaling $1,000 for the two best designs. Buyers on crowdSPRING set their own price and because of their experience helping 35,000 entrepreneurs and business owners, crowdSPRING believed this was a good award level. crowdSPRING set multiple awards because multiple awards often attract more and higher quality designers, since there's a greater likelihood of being picked. The project has been open for only one day, and already more than 120 designs have been submitted."
How did crowdSPRING get involved and is the site an official team partner?
"When Mark mentioned on his blog that the Mavs were re-designing their uniforms for the 2015-16 season, crowdSPRING reached out, introduced Mark to the site and offered to involve Mavs fans and the global crowdSPRING community of more than 137,000 designers and writers. crowdSPRING has worked with some of the world's best brands, many of the world's best agencies, and tens of thousands of entrepreneurs and startups. As a savvy entrepreneur, Mark wanted to see many creative designs and knew crowdSPRING could help. Mark liked the idea of the project on crowdSPRING and said that he would look at the submitted designs. crowdSPRING is not an official team partner but has worked with many official sports organizations and professional athletes."