New Contributor: Dr. Rich Campbell on Social Media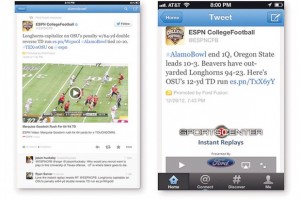 Welcome to my inaugural post on thebusinessofsports.com! Russell Scibetti has generously brought me on as a regular contributor – so expect to see my writings (at least) twice a month in this space.
As way of introduction, my full-time "day job" is as a professor of Marketing at Sonoma State University. I also teach in the University of San Francisco's Masters in Sport Management Program. So, I'll occasionally post on Student and Job Search related topics, but my most persistent themes for the blog will be Social Media and Big Data.
Consistent with the Social Media motif, two recent developments have piqued my interest. First, Twitter and ESPN have deepened their partnership. Undoubtedly, this is one direction that the dissemination of sports highlights is headed.
The question becomes, how will teams and leagues combat this move? Partnering with existing digital platforms? Further developing their own sites and apps to include more game highlights? Deepening relationships with their current broadcast partners to provide more online content? Let's keep an eye on this story going forward.
The second news that grabbed me this week is regarding the social scoring company Klout. If you are unfamiliar with Klout and/or social scoring, this article will get you up to speed.
Klout recently announced that its site is going to morph from just a scoring site to a more fully developed social site. The reason I'm intrigued by this news is that I'm interested in how sports teams may be able to incorporate social scoring into existing database management/CRM practices. Klout and its competitiors (Kred and PeerIndex, for example) are at the front end of quantifying consumer social media usage and its resulting influence.
I suspect that teams would love to know which of their fans have the most social clout and determine how to best manage those relationships to drive even more fans to their events. So, monitoring the social scoring scene – and the business models of those firms – will be a recurring theme in this space.
Thanks for reading my first entry in this forum.  I'd like to encourage you to offer any feedback on this post or suggestions for future posts. Looking forward to engaging with you on thebusinessofsports.com.