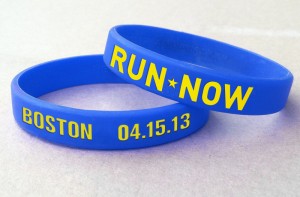 In direct response to the tragedies in Boston, leaders in the running community have united to help launch Run Now – the hub of information on volunteering, participating and sharing all of the activities that demonstrate the solidarity of the running community.
On the website, a special blue and yellow Run Now tribute wrist band will be sold for $2.00 with 100% of the proceeds going to One Fund Boston.
The evolving Run Now website will be a place to:
Securely donate funds to One Fund Boston
Share stories with the running community through social media channels – the site will aggregate stories using the proper hashtags and handles (@_runnow, #RunNow, and facebook.com/RunNowMovement)
Pledge to volunteer or participate in upcoming races
Run  Now  is also committed to:
Pledging free race entries (for partner races) to 4,500 Boston Marathon participants diverted prior to the finish
Raising $1 million for The One Fund Boston by National Running Day on June 5, 2013
Offering more than 100,000 'Run Now – Boston 04.15.2013' tribute wristbands to runners at upcoming marathons and at specialty running retailers across the country
The Run Now initial launch partners include Competitor Group, U.S. Road Sports & Entertainment Group, Brooks Running Company, MapMyFitness, Transamerica Life Insurance Company, Running Specialty Group and the Independent Running Retailers Association (IRRA).
"As runners ourselves, we share in a community that is resilient, passionate, strong, united and energized, even at a time of such unimaginable tragedy. The overwhelming outcry at the tragedy among runners inspired the industry to form this coalition.," said Scott Dickey, CEO of CGI. "This week, terrorists attacked runners and in doing so attacked our running community. Run Now shows that our community and the running spirit is stronger than any terrorists' evil intentions. We are determined to maintain the enduring and celebratory achievement of participating in running events. If there was ever a time to run, Run Now."
For more information, visit www.runnow.com.