Dominos Sponsors No-Hitters with the #DomiNoNo
Back in May of 2010, I wrote a blog post called Opportunity to Sponsor Accomplishments in which I wrote:
After reading about Dallas Braden's perfect game, which was also the 2nd no-hitter in Major League Baseball this year, I realized that this type of accomplishment could easily be associated with a sponsor in a positive way for the sponsor, the sport and the player involved. Think about it for a moment – we already have presenting/naming sponsors for several major awards, but there are so many great individual accomplishments beyond awards that brands would benefit from associating with. Here are a few quick examples that I thought of:
Baseball:  No-hitters, hitting for the cycle, triple plays
Basketball:  Triple-doubles, 40/50 point games
Hockey:  Hat tricks
Football:  Kickoff return TDs, 200 yards rushing/receiving, perfect passer rating
Well, it looks like I was about three years ahead of my time because Domino's just partnered with MLB for the #DomiNoNo. Check out the email that MLB just sent: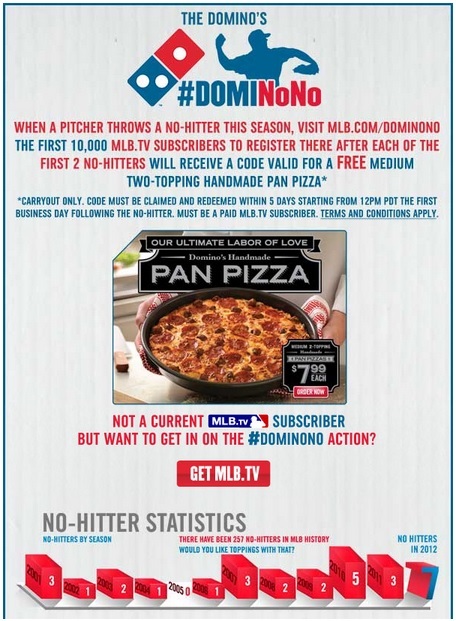 This is a great partner promotion between the MLB and Domino's. It drives value for MLB.tv subscribers, encourages people who were on the fence about MLB.tv to subscribe, associates the Domino's brand to a high-value accomplishment, highlights a social media campaign around the #dominono hashtag, and it's all designed in a way where Domino's should be able to measure a clear ROO and ROI. To me, that's a "recipe" for a well-executed sponsorship…sorry for the "cheesy" pun, but I'm "hot" today!