What's New at the 2013 MLB Fan Cave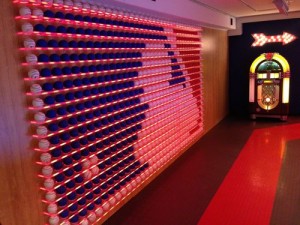 Today's post is courtesy of Amanda Rykoff and appears on her Amanda's World blog.
It's baaaack. For a third season, die-hard baseball fans will gather in New York City to watch every baseball game in a fully-loaded, tricked out apartment as part of the MLB Fan Cave.
Last year, Major League Baseball introduced baseball enthusiasts to nine passionate fans ("Cave Dwellers") representing seven teams who blogged, tweeted and posted about their experiences at the Fan Cave. After 2,430 regular season games and the postseason, over 100 player and celebrity visits, 21 Cave Concerts and countless online videos, tweets and blog posts, San Francisco superfan Ashley Chavez was crowned the "Ultimate Cave Dweller" at AT&T Park, where her beloved Giants wrapped up their second World Series championship since 2010.
This season, after several months of online applications, voting and in-person tryouts in Arizona during Spring Training, nine baseball buffs (six men, three women) representing nine different teams (Angels, Blue Jays, Dodgers, Indians, Mets, Rangers, Reds, Red Sox and White Sox), will make their homes away from home in the Fan Cave.
Though the details and execution have evolved since MLB introduced the initiative for the 2011 season in the 15,000 square foot space on Fourth Street and Broadway (the former home of Tower Records), the goal of the Fan Cave remains unchanged: mix baseball with music, pop culture, media, interactive technology and art to help generate content and conversation via social media.
"We saw a lot of really talented people. We expect the content creation side to explode," said Tim Brosnan, MLB's Executive Vice President, Business, during an open house for the media on Tuesday afternoon. "Someone asked me before, 'What's spontaneous about the Cave?' I said, 'How about everything?' It's supposed to be a place where ideas can turn into executions. We think we have this unbelievable foundation for it this year to send this thing incrementally past where it's been two years before."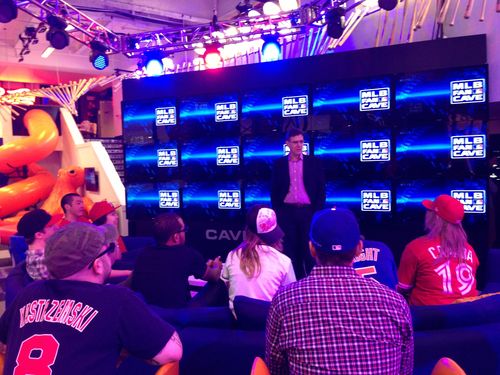 Many of the features from the 2012 Fan Cave are back in 2013, including the "Dirt Bar" where fans can get authentic dirt from MLB ballparks, skee-ball, shuffleboard, a custom billiards table (with billiard balls representing all 30 MLB teams), the PS3 gaming system and a ten-foot tall orange tube slide (aka the Home Run Slide). New additions to the Cave include a table tennis table, pinball machines, hammocks, a "charging stump," and a giant orange squid.
Let's take a closer look at what's new for 2013 to help take the Fan Cave to the next level.
"Mission Control"

Along the center south wall of the Fan Cave, a 20-foot long "Mission Control" panel will revolutionize the way Cave Dwellers and visitors see the games. While the "Cave Monster" in the middle of the space remains the centerpiece of the viewing experience (15 of the 50+ Sony HDTV screens in the Fan Cave will show all the current games), Mission Control features 30 Android-powered tablet screens and will show every game live on location at every major league ballpark. Powered by MLB.TV, Mission Control allows for live video chats between fans and Fan Cave visitors and will provide tons of data about each park (seating capacity, wind speed and direction and many others). Mission Control also contains a variety of social media metrics, including who is at the ballpark now (via Foursquare), Instagram photos, tweets, Facebook likes and Foursquare tips for each venue.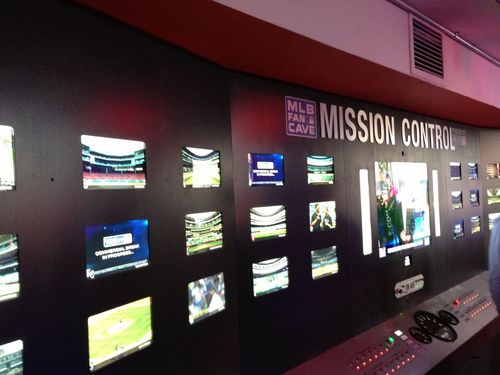 "This place is one of whimsy and phantasmagorical stuff, but at the end of the day, it's part of our business," Brosnan said. "As business people, more and more we're diving into the analytics and diving into data sets against our customers and what they're liking and what they're not liking. Through Mission Control and by it being powered by MLB.com, we're going to be able to analyze everything that anybody does. We think we've come up with a pretty great solution."
"Cave Art"
One of most striking features of this season's Fan Cave is the gallery of "Cave Art" on display on the front south wall as soon as visitors set foot in the space. The idea came out of Brosnan's desire to enhance art's presence in the Fan Cave as it continues to fine tune its mix of baseball and pop culture.
Kerri Lisa (fans may recognize her from the Bravo reality series, "Gallery Girls") is the woman responsible for curating the art gallery at the Fan Cave. The current installation features a mix of original and commissioned works by Thierry Guetta, aka Mr. Brainwash (featured in the Banksy documentary, "Exit Through the Gift Shop"). Each exhibition will run for approximately six weeks and will include a rotation of yet to be determined artists.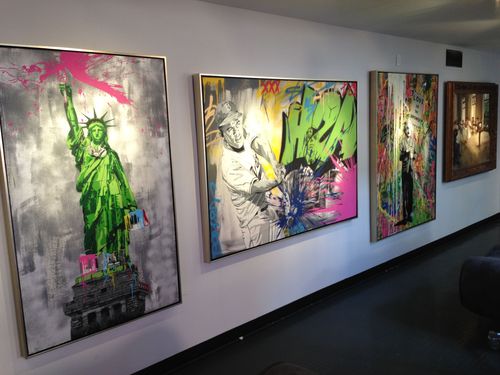 "If you go blocks from here to the East Village or go to Williamsburg, or Bensonhurst or Red Hook, in those neighborhoods there's a bubbling art scene," Brosnan said. "Who's going? 18-34 year olds. We want them here. So we contacted the 'Gallery Girls' folks and Kerri said, 'I get it, I'm all over it, I'll put on six shows.'"
"Fan Cave University"
Another new initiative launching next week is "Fan Cave University," where MLB will invite leaders in non-sports related fields to speak at the Fan Cave. It's a way to showcase the venue and also broaden the experience for the Cave Dwellers. The first guest lecturer will be Bobak Ferdowski (aka "Mohawk Guy"), the NASA system engineer who became famous during the Mars Curiosity Rover landing.
"I hear my kids talk about BuzzFeed and Politico and they're into politics," Brosnan said. "It might not be deep and technical and ideological, but it's a part of their currency. We say we're going to do Fan Cave University. We're going to bring lecturers in and we're going to talk to them about politics and the social scene."
"Cave Crashers"
MLB knows that fans want more opportunities to experience the Fan Cave personally and not just via video and social media. MLB also wanted to find ways to engage the individual clubs beyond the player visits and videos throughout the season. MLB will introduce a new promotion to combine those two goals — the "Cave Crasher" contest.
All 30 Major League clubs will run promotions to find a superfan who will come to New York City to "crash" at the MLB Fan Cave for two days while their team is visiting either the Yankees or the Mets. According to Brosnan, the teams are already "wildly excited" about this new idea.
Cave Dweller Travis Miller, 27, a Mets fan from Red Hook, NY, can't wait to show off his custom ping pong paddles and crush his opposition on the new table tennis table at the Fan Cave. Miller, a Marist College graduate who had been working as a freelance sports writer in Chicago for the past four years, also looks forward to the "Cave Crashers" joining him and the other eight superfans.
"I'm excited about the Cave Crashers," Miller said. "You're going to get one from every team and they're going to come in for a couple of days. It's going to revitalize us — not that we're going to need it — but it's going to bring a new energy and a different perspective every day when teams are in town. You don't know what they're bringing to the table so it will be very spontaneous. I'm absolutely excited to see what we can do with it."
Amanda Rykoff is a New York City-based writer, sports fanatic, social media maven, recovering attorney, devoted aunt, proud Penn alum, and TiVo junkie. She has contributed  to espnW.com, ESPN's online destination for female sports fans and athletes. Follow her on Twitter (@amandarykoff).