1st Annual Sports PR Summit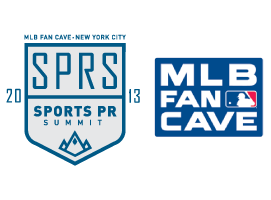 Thanks to Brian Berger for the information on the 1st Annual Sports PR Summit, taking place in New York on May 22!
Date: Wednesday, May 22, 2013 – 1:00pm – 5:00pm (includes networking reception)
Where:   New York City
Host Venue:  MLB Fan Cave – 692 Broadway – New York, NY – 10012
The half-day Sports PR Summit will allow Sports PR executives from the various pro sports leagues, the collegiate ranks, sports corporations and PR firms the opportunity to come together in one location for panel discussions, strategy development and networking.
Hear dynamic panel discussions and best practices covering topics such as:
The Risks and Rewards of Social Media Communications – Strategies for the best ways to engage on Social Media and how to avoid pitfalls. Bill Sanders (CMO for BDA Sports) will moderate the panel of experts that will include Matt Bourne (MLB VP of Business PR), Erik Christianson (NCAA Managing Director of External Affairs), Dan Courtemanche (MLS Executive VP of Communications) and Lauren Teague (PGA Tour Social Media Manager).
Media Roundtable – Roundtable panel discussion featuring reporters talking about how they work with PR people. Discussion will be centered around reporter likes and dislikes, what they look for in story pitches, how they are utilizing social media and how social media has changed their job. Veteran broadcaster & journalist Ric Bucher will moderate the panel of reporters that will include Jon Wertheim (Executive Editor/Senior Writer for Sports Illustrated), Christine Brennan (Columnist for USA Today and broadcaster with NPR and ABC News) and LZ Granderson (Senior Writer for ESPN the Magazine and Columnist for CNN.com).
Entertainment PR Case Study – Featuring PMK-BNC Chairman and CEO Michael Nyman (clients include Jimmy Kimmel, Amy Poehler and Zooey Deschanel)
For more information or to register, please visit to www.sportsprsummit.eventbrite.com and register with the password sportsprsummit2013.  You can also find the Sports PR Summit on Facebook at www.facebook.com/SportsPRSummit and on Twitter at twitter.com/SportsPRSummit.