The Corporate Ticket Marketplace Report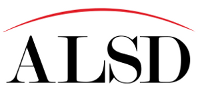 Earlier this week, the Association of Luxury Suite Directors (ALSD) released a comprehensive report on The Corporate Ticket Marketplace (click here to download). In the era where corporations needs to make sure they maximize every dollar spent on corporate hospitality and the challenges that face premium sales staff, the information in this report is extremely valuable. It features:
A detailed evaluation of the changing marketplace by Bill Dorsey, Chairman of ALSD.

Analysis of what companies are spending on premium seating, by both industry type and company size, compiled by Ron Contorno of Full House Database Marketing and Dr. Heather Lawrence of Ohio University.
Insights from interviews with 15 Fortune 100 companies on their use of premium seating, put together by Dr. Peter Titlebaum of University of Dayton and Dr. Heather Lawrence, Dr. Christopher Moberg, & Ms. Christina Ramos of Ohio University.
Summary reports on the size of the premium seating market from ALSD's research group.
Changes in the ownership of premium seating as compiled by Dr. Peter Titlebaum.
Detailed reports on how companies are using sports tickets, from Spotlight TMS.
Here are a few interesting facts from the report and one of the helpful charts provided by SpotlightTMS:
There are approximately 30,000 suites and 800,000 clubs seats that comprise the premium seat marketplace in North America.
In terms of dollar volume, the market has been conservatively estimated to generate $10 billion per year which only accounts for sports, not the concert or entertainment side of the equation.
For a new building in a major market, premium seating now generates nearly 50% of the total ticketing revenue. Much of this income is not considered part of revenue sharing with the league or its franchises.
The average ticket owned by a business is used to entertain $107,624 in potential or current revenue.
Fortune 100 companies' primary objectives for ticket usage include driving business growth and adding new business, retaining and providing hospitality to current clients to nurture an established relationship, and establishing relationships with teams and properties.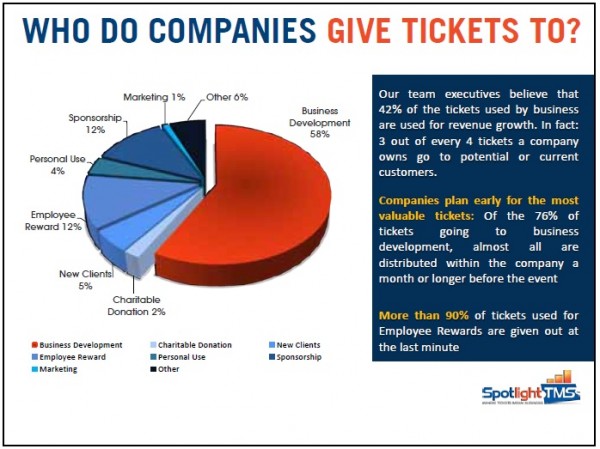 Click here to download the full report from the ALSD website.
In addition, ALSD has organized a new event called the Corporate Ticketing Impact Conference (CTIC), taking place on April 16, 2013 at MetLife Stadium. This one-day event is designed to bring together buyers and sellers of premium seating so that corporations can share best practices to drive ROI and teams can gain better insight into their customers' needs. Visit www.ctic2013.com  for more information.