Fans United: Turkish Airlines and Manchester United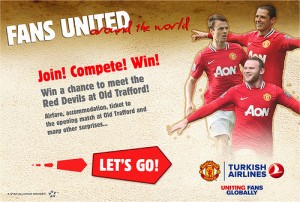 Turkish Airlines saluted Manchester United's new Premiership season by taking 19 lucky fans from around the world to the city of Manchester. It began with Turkish Airlines launching the "Fans United" contest on their international Facebook page. The goal was to help a few lucky fans experience Manchester United culture in its home, the city of Manchester.
First stop was Old Trafford, where the group was treated to a private, behind-the-scenes tour. This was an experience with stops at the players' dressing room, the dug-out, and the club's award-winning museum. On August 24, the winners traveled to Carrington where they got to watch the first-team of Manchester United warm up before tactical training by Sir Alex Ferguson. They also had the privilege to get autographs and talk with famous team members such as Rio Ferdinand and Javier "Chicarito" Hernandez.
The group was treated to lunch at the Old Trafford's Red Cafe, followed by visits to some of Manchester's other impressive sights, before being treated to dinner at one of the city's finest restaurants. But the real highlight of the trip arrived on Saturday, when the group witnessed United's 3-2 win over Fulham in the first home game of the season from some of the best seats in Old Trafford's East Stand. It was the perfect way to cap an incredible few days in an experience that one winner described as "a dream come true."
By the end of this four-month social media campaign, the Fans United application reached out to over 322 million people globally to give 19 lucky Red Devils fans an unforgettable experience. To learn more about this campaign, watch the video below and check out the infographic recap.
Video:
Infographic: