Guest Post: 2012 Ivy Sports Symposium Recap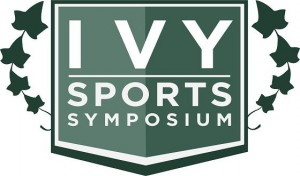 Today's post is courtesy of guest blogger Cameron O'Toole.
The seventh annual Ivy Sports Symposium was held this past Friday in New York City. Over 300 industry leaders, both established and emerging, as well as over 350 students congregated at Columbia University to discuss industry trends and explore networking opportunities.
David Falk, Founder and CEO of Falk Associates Management Enterprises moderated the opening keynote panel. Falk facilitated thought-provoking discussion among the panelists, which included Bob Bowman, President and CEO of MLB Advanced Media, Simon Cummins, Managing Partner, International Sports Practice, Odgers Berndtson, Peter Luuko, President and CEO of Comcast-Spectacor, and Chairman of Global Spectrum, Peter Moore, CEO of Electronic Arts, and Heidi Ueberroth, President of NBA International. Many topics were considered, but the emergence of technology, and social media in particular, seemed to take a prominent role in the dialogue. Moore quipped, "There are some athletes that shouldn't be let near a mobile device. 140 characters is just too much for some people."
Attendees were then free to explore various panels that took place throughout the day. The panels were organized in groups of three or four and the focus of these discussions ran the gamut of trends within the industry. Subjects included: Marketing, social media, entrepreneurialism, emerging sports, collegiate athletics, sports analytics, organizational culture, sports finance, and television. Ample opportunity was given to attendees to explore their various areas of interest, or even to hone in on the multiple aspects of one key segment of the industry.
Highlights from these panels included:
"[With ambush marketing] there is a line between protecting your rights and being overzealous – that hurts the brand." -Lisa Baird- CMO, USOC
"Sponsors are no longer happy just slapping a logo on a wall or courtside." –Lon Rosen, Executive VP and CMO, Los Angeles Dodgers
"The biggest challenge isn't the inappropriate tweets, it's the authenticity of the tweets associated with brands." –Bill Sanders, CMO BDA Sports Management
"If you're not failing, you're not pushing yourself hard enough." –Will Dean, CEO and Founder, Tough Mudder
"Go to Home Depot and buy knee pads, because you'll constantly be begging for things." –Adam Kanner, Founder and CEO, ScoreBig, giving advice on start-ups.
"Culture will eat strategy for lunch." –Derrick Hall, President and CEO, Arizona Diamondbacks
The symposium concluded with a star-studded keynote panel emphasizing the ingredients to building a winning team. Sandy Alderson, GM of the New York Mets, Billy King, GM of the Brooklyn Nets, Nick Sakiewicz, CEO and Operating Partner of the Philadelphia Union, and Rick Spielman, GM of the Minnesota Vikings, comprised the panel. Tyler Tumminia moderated a fascinating discussion that included incredible insight on the experiences this group has had in the industry. Stories of King's draft-night decisions, and Spielman shedding light onto the Minnesota Vikings draft research were some of the most notable takeaways from the panel. King shared his policy on veering from a draft board while discussing his decision making process during the 1998 NBA Draft. King joked that he wouldn't ever go against the draft board again after passing on Dirk Nowitzki and Paul Pierce. Spielman delved into the Vikings draft preparations and discussed the personality tests that the organization gives to their draft targets. Interestingly, the Vikings organization breaks down desired personality traits position by position to account for desired behavioral qualities.
The Ivy Sports Symposium is truly an incredible opportunity for anyone interested in working in the sports industry or learning about key industry trends. Numerous windows for networking with panelists or peers were made available throughout the day, and being surrounded by such distinguished industry leaders is invaluable. Be sure to follow the symposium on Twitter at @SportsSymposium for updates about next year's event.
Cameron O'Toole is a Master of Science student in the Mark H. McCormack Department of Sport Management at the University of Massachusetts – Amherst. You can find him on LinkedIn or on Twitter at @cpotoole13.