MLB Twitter Account Goes "Members Only"
I just got this email today from Major League Baseball about their @MLB Twitter account going "members only" for six hours today. Take a look: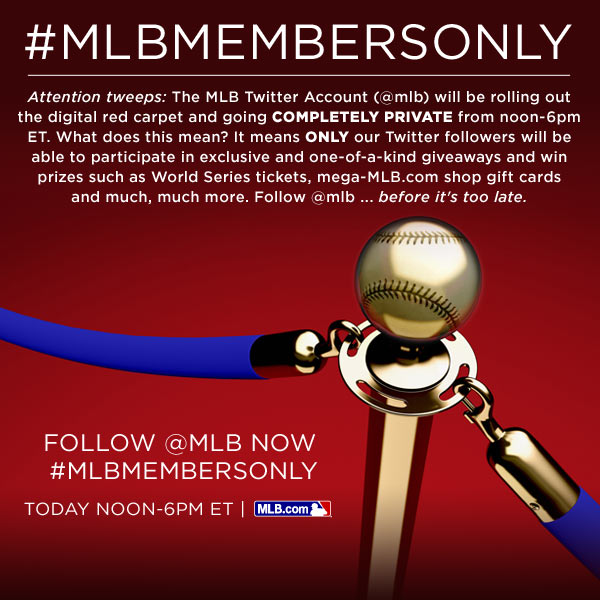 What do you think of this? As of around 10AM when I received this email, their account had 2,435,207 followers. I will check back at 11AM and 12PM to see what type of lift they've gotten. And of course, I'm going to keep an eye on their account during the "members only" period to see what types of contests and give-aways they end up running. Maybe you should do the same!
11AM Update: 2,438,202 followers (Increase of 2,995) – Also forgot to mention they are using the hashtag #mlbmembersonly for this initiative.
12:20PM Update: 2,440,765 followers (Increase of 5,558) – And here's the temporary look of their Twitter page. They did actually lock the page, so only followers can receive see their updates at this time.

1:15PM Update: Three giveaway style contests so far based on tweeting specific phrases. Prizes have been 2013 All-Star Game tickets, 2013 opening day tickets and three 2013 MLB.tv subscriptions.
1:50PM Update: The number of followers is still increasing, up to 2,442,734 now, but their account is locked. In theory, any requests to follow the account at this time would need to be approved by hand. That causes two problems here. One is that I feel bad for the intern having to approve each request. But more importantly, this campaign isn't as exclusive as it sounded at first. I felt that this was positioned not just to drive new followers before the "lockdown" began, but more importantly to give some unique value to their Twitter audience that was already following them. By taking on new followers during this six hour window, it's really not much different than standard Twitter-based giveaways.
2:40PM Update: Up to 2,443,322 followers, an increase of 8,115 since 10AM this morning. We've also had additional giveaways (two $300 gift cards and more opening day tickets), and we've confirmed that they are approving new followers by hand throughout the event.
Friday Morning Update: The @MLB account now has 2,443,434 followers, for a total increase of 8,227, which isn't much more than their count from 2:40PM yesterday, so you can confidently attribute that entire lift to this promotion. Additional giveaway prizes included custom t-shirt jerseys, more $300 MLB Shop gift cards, more 2013 opening day tickets, more 2013 MLB.tv subscriptions, and finally, tickets to the World Series. Once they "unlocked" the account, they also shared a 30% discount code for MLB Shop that expires today at noon.
According to topsy.com, it looks like the #mlbmembersonly hashtag had 4,160 mentions yesterday and the @MLB account itself was mentioned 5,376 times. I don't know what their expectations were, so its hard to say if this would be considered successful or not, but I give them a lot of credit from trying a different approach. I think next time, it would be fun to see more engaging elements to the contest rather than just driving "copy and paste" tweeting, which I heard from a few people ended up being a bit of an annoyance to see all throughout their Twitter feed yesterday.