The Complex Dynamics of Premium Seating Demand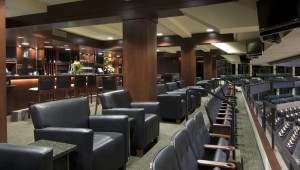 Sold-out premium seating? More of the same isn't always a good thing
A few years ago, I conducted a premium seating demand study for a BCS-level college football program.* At the time, their football stadium offered two types of premium seating, suites and club seats located on a private level. The private suites had been constructed first and quickly sold out. The club seats were added a number of years later. They also sold out quickly, mainly to buyers from the suite waiting list.
When the athletic department engaged consultants, they were eyeing renovation/expansion of their football stadium to generate increased revenue and enhance their competitive position in their conference. With high-dollar suites sold out for 20+ years running, the first question the athletic department asked was, "How many more suites should we build?" Needless to say, they were shocked when research and analysis suggested they should demolish a number of their existing suites.
Are there any unique market fundamentals that effect demand?
Market research efforts (including interviews, surveys and focus groups) uncovered three underlying issues that were specific to this athletic program and had significant effects on premium seating demand:
Seating capacity of all private suites exceeded 20 people;
Suites were purchased primarily by individuals and families rather than large corporations, owing to the fact the school was not located within a major metropolitan market; and
The athletic department did not control and/or account for the practice of "suite sharing."
In sum, the stadium was built with a high inventory of suite capacities ideally suited for large corporations. In contrast, these suites were sold to parties lacking the ability to fill the 20+ person capacity on their own. Suite buyers were turning around and selling the excess capacity to other parties desiring smaller blocks of seats.
The main flaw in the athletic department's way of thinking was defining each suite as a stand-alone product, rather than viewing premium seating inventory in terms of each individual seat. Thanks to this flawed perspective, they failed to recognize that charging $60,000 for a 20-person suite ($3,000 per seat) is actually a loss of revenue relative to a configuration where two 10-person suites could each be sold for $35,000 (or $3,500 per seat).
What is the goal when designing a premium seating program?
The goal in analyzing demand for premium seating is to maximize revenue generated for each individual seat within your inventory. Inventory should be designed and sales packages developed so potential buyers can purchase each seat desired at the maximum price they are willing to pay. In the particular stadium from this case study, revenue potential was not being maximized from three particular types of buyers:
Some suite buyers were paying $3,000 per seat to share a suite, when they would have been willing to pay significantly more per seat for a smaller, private space of their own;
Some club seat buyers were paying $1,500 per seat for club seats, when they would have been willing to pay significantly more per seat for a private space that could accommodate their entire party; and,
Some lower-level season ticket buyers were paying $500 for general admission tickets, when they would have been willing to pay significantly more per seat for the stadium's sold-out premium seats.
How do you maximize revenue?
The recommendations I provided were three-fold:
Reduce the number of 20-person suites to meet only the demand of companies and families that specifically desire suites with an extra-large capacity;
Replace the removed suites with smaller suites ranging in capacity from 8 to 12 people; and,
Build additional premium seating areas with loge boxes (with seating for 4 to 6 people each) and more club seating.
The following hypothetical chart shows the potential financial impact of re-configuring premium seating to reflect current market demand.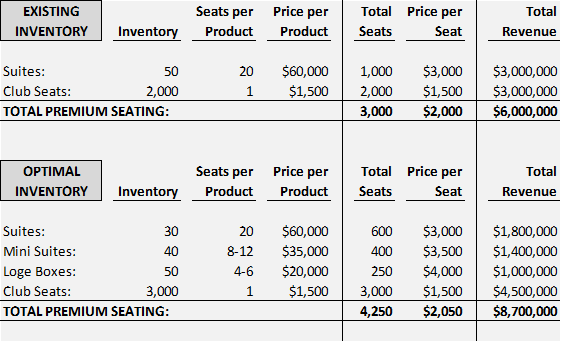 By making the recommended changes the athletic department could increase the total number of seats in their premium inventory by an estimated 1,250 seats while simultaneously boosting revenue per seat by nearly $50. Overall, they could generate approximately $2.7 million per year in incremental annual premium seating revenue.
Conclusion
Properties are often content with what they believe to be acceptable revenues from premium seats. Unfortunately, they may be operating under assumptions made when the facility was originally designed that do not match the nature of current market demand. When considering your next move to increase total revenue, premium seating configuration is often a great place to look.
* Seating inventories and financial figures have been changed for confidentiality.
Brian Connolly is the managing partner of Victus Advisors, an independent consulting firm specializing in market research and financial advisory for sports franchises, athletic departments and sports & entertainment venues. You can e-mail him at bconnolly@victusadvisors.com or follow him on Twitter at @BrianHConnolly. A version of this column also appeared in a previous edition of The Migala Report.