Scoring Teams with Sponsorship Advisor
I love most things analytical in nature, as they help us make quality, justifiable decisions rather than just acting on intuition and educated guesses. So when my friend Jamie sent me some information about Sponsorship Advisor (recently launched by Genesco Sports Enterprises), I thought it was definitely worth sharing.
Sponsorship Advisor is a web-based tool that attempts to quantify which professional and college sports teams are the most valuable to companies from a sponsorship perspective. In should come as no surprise that the teams that lead in their initial rankings are high-profile franchises that have had a strong history of success on and off the field. The New York Yankees have the top score, which is heavily influence by the combination of a championship history, large market, avid fan base, and superior business operations. Here is a list of the top teams by league, including NCAA: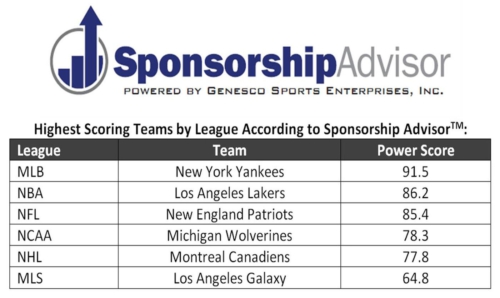 According to their press release, "A proprietary formula utilizes objective data to uniformly score teams on a range of factors including impact, stature, national fan avidity, and local fan avidity culminating in a team's Power Score measured on a scale of 1-to-100. Users have the ability to compare teams across leagues, within a league, or within a local region."
"One of the great things about this tool is that it is customizable to each brand based on their specific business goals," said Charles Rode, Managing Director, GSE Research and Insights. "We have the ability to add custom business rationale metrics, and users can assign different weights to various criteria based on their objectives. The data is continually updated so we can track team scores over time to see fluctuations."
In addition to the "top teams" list above, they sent me two additional detailed screenshots to share with you.  The first image below is their evaluation grid, which shows all metrics for the teams and leagues searched (click the image to see a larger version). The second image shows the individual team scorecard for the New York Yankees. This seems like a pretty interesting tool for brands to look into to make sure they are aligning themselves with the right properties.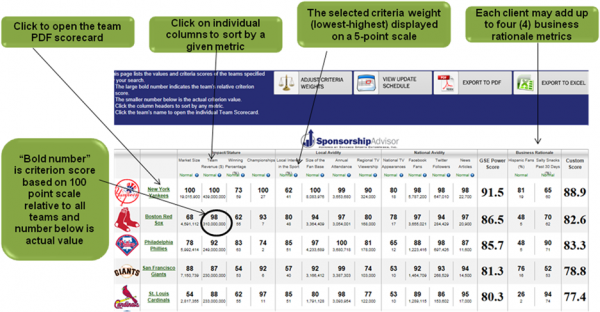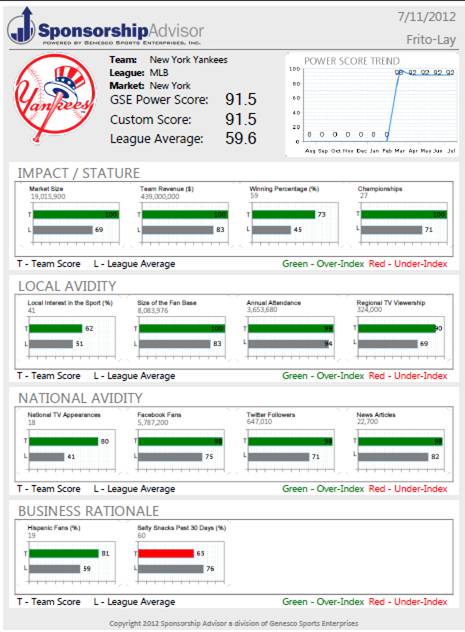 For more information, you can contact Charles Rode, Managing Director of Genesco Sports Enterprises at crode@genescosports.com. And tell him you saw it here on the blog!