Summer Sports Business Conferences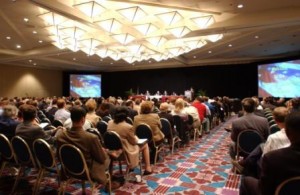 This summer, I have the opportunity to attend and speak at a couple of excellent conferences, one of which has already passed and two more that are right around the corner. I just wanted to take a minute to highlight each of them. Depending on your particular area of focus, I highly encourage you to attend one or more of these. In all cases, you will come away with new ideas and best practices that you can share with your own organization. And of course, the professional networking opportunities that these events offer cannot be undervalued!
– Sports Business Journal's Facilities and Franchises & Ticketing Symposium
This event covers so many pressing topics for sports teams, leagues and venues, including ticket pricing, mobile, sales culture, social media, emerging revenue streams, facility management, corporate sponsorships and the fan experience.  I had the opportunity to speak about how teams can capture and convert data into ticket sales. While this event has passed, keep it on your radar for next summer, and in the meantime, enjoy SBJ's blog recap of the conference here. I still hope to write some of my own session recaps in the coming weeks (time permitting).
– Association of Luxury Suite Directors (ALSD) Conference and Tradeshow / Venue Technology Group
For anyone working in a function related to premium seating (clubs, suites, hospitality, partnerships), this is probably the best resource to keep up with what the rest of the industry is doing. The conference offers deep dive sessions into all aspects of premium sales, service, retention, facilities and more, plus the tradeshow is full of new ideas for amenities you can add to your venue. In addition, ALSD has a dedicated IT track called the Venue Technology Group, which covers the infrastructure, application development, sales technology, CRM and more that any modern venue needs to deliver a quality customer experience.
The conference actually starts this Saturday in Minneapolis, so it's not too late to attend. I will be speaking the last day on the value of CRM for premium sales and service initiatives. If you can't attend, make sure to follow the #ALSD2012 hashtag on Twitter!
– Sports & Entertainment Alliance in Technology (SEAT) Conference
Finally, for those on the technology side of the business, SEAT is completely dedicated to the IT needs of any sports organization. Topics include digital signage, mobile access, venue infrastructure, data security, social media, application development and more. This year, the conference has also created a special full-day CRM and Database Marketing track, which over the course of the day will cover everything from project planning and vendor selection to leveraging analytics and social media integration. I will be talking as part of this track, specifically on short-term and long-term strategies to maximize the benefits of a CRM deployment.
SEAT takes place August 5-8 in Boston, so there is plenty of time to sign up and attend. In the meantime, you can follow them at @SEATConference on Twitter – I'm sure there will be a hashtag once the event starts!
If you are thinking about attending or going to attend either ALSD or SEAT, please reach out so we can connect at either event!