Sports Teams: Growing Socially!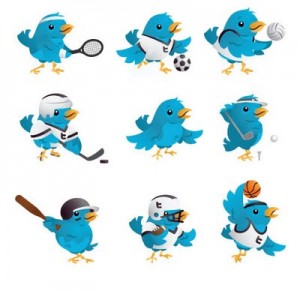 Today's post is from our new contributor, Caleb Mezzy.
An interesting topic of conversation in the intersection of Sports and Social Media is always the question…Would you consider Sports ahead or behind in Social Media growth? After engaging in this debate, I often say the verdict is still out there. While Sports occasionally takes time to embrace a certain platform, it often comes out very innovative when action on that platform takes place.
The key in Social Media is not to be ahead or behind. The key in Social Media is mostly (not only) the below:
Social Media never sleeps. That's how you know it's a) a business b) here to stay and c) has value to you and your consumers.

— Caleb Mezzy (@Caleb_Mezzy) April 30, 2012
Yes, that's me and that's my opinion, but I firmly believe it. Let's discuss this in conjunction with Sports. Social Media never sleeps and neither does the Business of Sports. Social Media is a business and clearly so is Sports. The sports industry is not going anywhere and we've finally recognized neither is Social Media. Now the final point is the pivotal one. Social Media in Sports has value to both you (the team) and the consumers.
A buddy of mine, Adam Sherk, did some excellent research on the growth of MLB Teams on Twitter and Facebook. If we take a look at these teams and look back at our own Twitter accounts, we will see not only a difference in results of followers, but also a difference in usage. Why? Is it because they are businesses? Is it because they have multiple people working on the account? With my three points above, we are all in the same field, but teams have the advantage as established brands.
Take a good look at Sherk's study and ask yourself how you grew your own brand on Social Media. What helped? What didn't help? It makes me wonder if teams could throw these "tools" in the arsenal.
The Celtics have done #CelticsChat which helps to broaden their outreach just like I do with #SMSportsChat every Thursday night at 9 PM ET (shameless plug).
I've often brought up teams utilizing their own players as brand extensions especially as more players are breaking news which is making it harder for beat reporters to do so. Using players as brand extensions can help broaden your reach as many fans might be a fan of a player, but not the team.
These are just two elements. In no way are these the only solutions out there, but they are presented for you to explore.
As we begin to see more shifts and adaptations to the world of Sports and Social Media, I leave you with another opportunity for leagues and teams to be innovators.
Bob Bowman, CEO of MLB Advanced Media, was quoted in "How Social TV is Changing Field for Sports" saying that, "both TV viewing and online viewing move together". Tweeting prior to game time is no longer enough. There are fans in the arena who want to be engaged when they are present. There are fans at home, who want to be engaged and feel like they are there and/or missing out to the point that they NEED to be there. The business extends beyond the stadium audience.
This is exactly the opportunity Sports teams and leagues need to take advantage of to grow their Social Media Business because that is how you bring value to you (the team) and the consumers (the fans).
Caleb Mezzy is the Social Media Coordinator for JKCP.com and is also a Social Media Consultant, co-founder of #SMSportsChat and founder of TweetStarGame. He enjoys the development of the Sports and Social Media intersection.