Guerrilla Marketing by Hashtag
The NBA has been heavily promoting the Twitter hashtag #NBAPlayoffs in all of their broadcasts and marketing materials this offseason. These efforts are highlighted by their Social Spotlight page over at NBA.com/social-spotlight, which is aggregating content together via this hashtag.
However, in doing my own searches for this hashtag via Hootsuite and Twitter.com, I saw the following Promoted Tweets:
Hootsuite: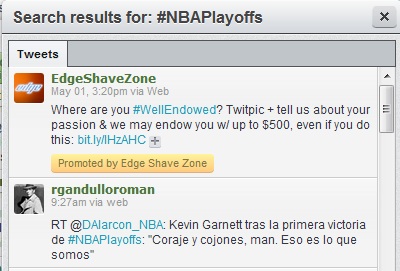 Twitter.com: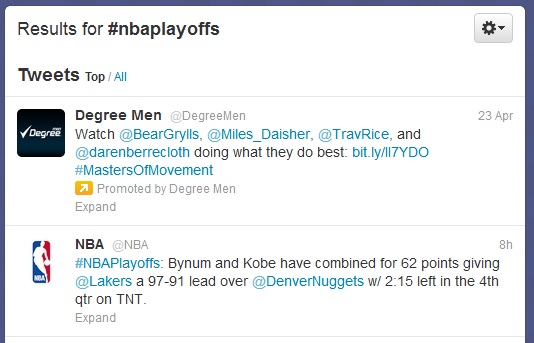 So, if I understand how this works, both Edge Shave Gel and Degree Deodorant are taking advantage of the popularity of the #NBAPlayoffs hashtag to get exposure for their product via Promoted Tweets. This seems like quite the social guerrilla marketing tactic to me. I don't think the NBA can officially "own" a hashtag, so the brands aren't technically using any NBA assets, but they are still getting NBA-related exposure.
In the case of Degree, the official deodorant of the NBA is actually Right Guard, which makes this tactic even more interesting. Does the NBA have any leverage to try to prevent this, or do the brands now need to consider adding Promoted Tweets to prevent competition from swooping in and stealing exposure? Or on the other hand, am I reading too much into this? Share your thoughts in the comments!