Event Marketing Trend: Year-Round Activation of a One-Day Event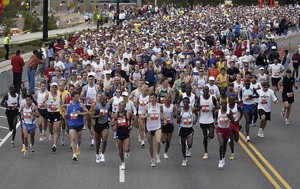 Today's post is courtesy of guest blogger Brandi Connolly, Director of Sports & Experiential at hawkeye. This article originally appeared on hawkeyeww.com.
Over the past 10 years or so, major U.S. sports leagues like the NFL have focused on activating and engaging their fans year-round, not just during the regular season. The NFL now promotes their Training Camp, Regular Season, Playoffs, Super Bowl, Free Agency and Draft as individual engagement points throughout the calendar year. Recently, I am starting to see a similar shift in the way the Endurance Industry markets their properties and events. Marathons, triathlons and other endurance races are typically viewed as one-day opportunities for brands to engage consumers; however creative events and brands are looking to generate greater leverage via sustainable, annual revenue streams.
Although an event like the Boston Marathon only takes place on the third Monday in April, most participants run year-round and many are striving to qualify for other top races like, Chicago or New York. Adidas has been a footwear and apparel supplier to the Boston Marathon for 23 years (the coveted Boston Marathon Jacket quickly comes to mind), but in recent years Adidas has been looking for ways to extend their reach beyond that one day in April. Not only do they want to increase their appeal to the qualified runners that compete across the country, but they also want to reach the aspirational audience. Aspirational runners may never qualify for Boston, but running is a huge component of their lifestyle and they will be consumers for life.
For next year's Boston Marathon, Adidas launched their new "Boston365" campaign. This campaign combines their Boston Marathon sponsorship, elite athlete relationships and retail partnerships into a new year-long training program. Boston365 was designed in partnership with Fleet Feet Sports to provide assessment, coaching and training to support participants hoping to qualify for future Boston Marathons.
Whereas the sponsor drove the new year-round platform in Boston, in New York the New York Road Runners (NYRR) club is pushing their partners to activate throughout the year. The NYRR wants to provide an elite experience for every participating athlete, not just on race-day but also in NYRR training runs that take place throughout the year. Ann Wells Crandall of the NYRR was recently quoted saying, "Running is an everyday thing, and so we're trying to match that with our sponsors support." This approach means that the NYRR needs sponsors who will not only participate in the ING New York City Marathon on November 5th, but also provide support and assistance for additional NYRR events throughout the year.
Overall, I see this trend as a "win-win-win" for the sponsor, the race and the athlete. This drive towards year-round training support and promotion will help build awareness of the many fantastic endurance events that are offered, while also providing sponsors a means to leverage their initial investment through more year-round activation. Smart sponsors who take advantage of this shift will be able to move their sponsorship far beyond race day to reach the broader endurance market.
Brandi Connolly has spent more than 10 years focusing on sports business. She has executed a Super Bowl (XLII), built new membership strategy for bowling's National Governing Body (USBC), enhanced NASCAR and NFL fan experiences and made sure the world's best runners are hydrated. Her philosophy is that sport is all about one-on-one consumer engagement. She tells her clients "if you can create a way for a consumer to experience your brand in an authentic way, then you will have a lifelong customer…and that's what we do." Click here to view our previous interview with Brandi on experiential marketing.