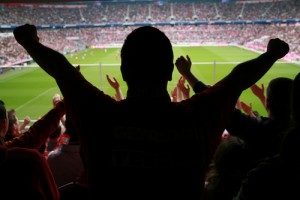 I have a small but very important post to share with you today.
The longer you work in the sports industry, with all the crazy hours and game nights that you work, and how connected your life becomes to the particular team, league or brand you work for, sometimes you can start to lose touch with the joy and excitement that sports can bring to your life. You need to take time and stay connected to that energy and passion. Most importantly, you need to have fun!
So your homework assignments for this year include:
Go to a baseball game and sitting in the "cheap seats"
Tailgate at a college or professional football game
Watch an overtime game in the  Stanley Cup playoffs
Go to the park with family or friends just to play catch
Find a few hours on a Saturday morning for a round of golf
Join a new fantasy baseball/football/basketball/hockey league
Play in some pickup basketball games at your local courts
Try to cross one event off your sports bucket list
Above all…BE A FAN!
Never forget how much fun this is and how lucky we are to be a part of it! Hope you all have a great weekend.