Random SportsBiz Thoughts For Today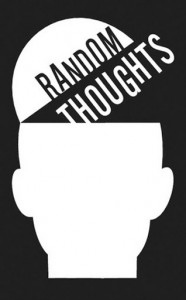 Sometimes I end up with a bunch of random sports business thoughts or ideas running through my head, but each idea isn't really big enough to warrant its own blog post. So, why not share some rapid-fire thoughts? Hopefully one or more of these ideas resonates and can help or inspire a reader:
Leap Day – Today is February 29, which literally only occurs once every four years. So what are teams and other sports organizations doing to try and make this day special? So far, the only Leap Day-specific marketing material I received was a 25% off discount from Barnes & Noble, and I'm quite tempted to take advantage of it. Arizona State was running an interest Leap Day campaign (not-sports related), but for all the sports email newsletters I subscribe to, I haven't seen any Lead Day promotions. Have you?
Update: Thanks to Twitter, I learned about this $29 concessions credit offer from the Hagerstown Suns and this no convenience fees promotion from the Sacramento Kings (Thanks to @SportsBizMiss and @WExline)
Beer Ban – So the Red Sox have decided to ban beer from the clubhouse, after all the negative publicity the team received at the end of last season. Ex-manager Terry Francona calls is a PR move, and while there might be other benefits to this ban, I'd have to agree with him. However, I have two other questions about the ban:
Could this have any affect on signing players? Clearly, there's not much comparison between the ability to have a beer vs. getting paid millions of dollars, but if a player doesn't feel comfortable with the clubhouse rules or environment, it has to factor into their thought process at least a little, right?
What does the team's official beer sponsor think of this ban? Could there be any negative impact on their relationship? Again, this is probably quite unlikely, but I imagine they might have an opinion on the ban.
Gamification – This is a big buzz word in digital marketing, and I understand the concept. You want to incentive and reward certain consumer behaviors, and based on the success of social gaming, creating a "game" around these behaviors can be very motivating for some people. While I think this approach does have value, my gut reaction is that it can be very dangerous to create artificial behaviors. Digital behavior can be very important in identifying and scoring  potential business prospects, but only when that behavior is authentic. Could "gamifying" these behaviors hurt our ability to identify real prospects? Just something to think about when exploring this type of initiative.
NHL Trade Deadline – I am a pretty casual hockey fan, but every year, I find myself drawn into the NHL trade deadline. I feel that out of the "big four" leagues, they do the best job generating buzz for their sport at the trade deadline, particularly via their website and other media outlets. Some may argue that MLB generates the most buzz, and they probably do in terms of sheer quantity since the sport itself has a larger fan base. However, I believe the NHL really maximizes their trade deadline exposure the best.
Rival Catchers – It dawned on me this morning that Jorge Posada and Jason Varitek, long-time catchers for the rival Yankees and Red Sox, have both retired this off-season. Both are iconic figures with their respective teams, leading them to multiple championships and many memorable, and sometimes contentious games. This led me to wonder, is there an opportunity to pair them together now is some type of endorsement or advertising campaign? Yankees and Red Sox players have been paired together before (remember this funny ESPN commercial?), and New Era recently had a commercial campaign pitting celebrity Yankees and Red Sox fans against each other. Dunkin Donuts is a corporate partner for both teams – maybe there's a fit here for them?
What random stories are you thinking about today?