Five For Friday – March Conference Edition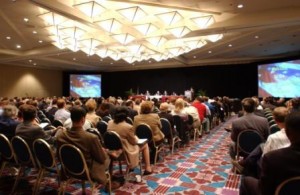 In the past, we used to have regular "Five for Friday" columns that featured five interesting or valuable links for the week. I'm going to start bringing this back more often with all different types of lists. Today, I'm going to highlight five excellent sports business conferences coming up in March that you should look into – as you can see, we are definitely in the midst of "conference season!"
(NOTE: there are LOTS of excellent conferences out there, so please do not be offended if your event is not on this list. I'm happy to add all upcoming conferences to the Event Calendar page, so please reach out to me if your event is not listed there.)
MIT Sloan Sports Analytics Conference (March 2-3) – For all the statistics-minded folks out there, this is the place to be. Every year I hear great things about this event, and really hope to attend in the future. While most of the conference focuses on on-field metrics, there are also several sessions related to ticketing, media and sponsorship analytics.
Global Sports Forum Barcelona (March 7-9) – I was fortunate enough to attend this event last year as an official GSFB Blogger, and I had an amazing time. The conference is definitely focused on European sports, which for me was very educational. There is also a strong emphasis on the relationship between sport and society. Click here to read some of my recaps from last year's event, and keep an eye on their official blog for insights from this year's edition.
LEAP – IEG's Annual Sponsorship Conference (March 18-21) – While I haven't had the change to personally attend IEG's conference yet, Mike Mahoney has shared recaps from the past two years and always comes back with valuable ideas to implement. For folks on the corporate side of the business, this event is definitely an annual highlight.
2012 IMG World Congress of Sports (March 21-22) – Sports Business Journal puts together several wonderful conferences each year, covering everything from media and sponsorships to ticketing and college athletics. While admission isn't cheap, they always have an impressive line-up of expert speakers and panelists. Click here for a full list of their 2012 conference schedule.
SEME: Sports Events Marketing Experience (March 30-31) – SEME is geared towards educating younger sports professionals and has a definite focus on networking and career development. As such, their registration fees are much lower than many other industry conferences. They have a great lineup of presenters every year and manage to cover a wide variety of topics in just two days.
Remember, this is only a list of  events coming up next month. Throughout the year, there are many excellent conferences out there for all different backgrounds and budgets. I will try to list as many of them as I can on the Event Calendar and in future "Five for Friday" posts.